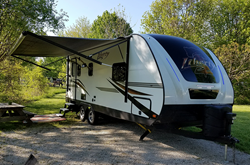 We're booming! Faster than the rate of US Census Bureau growth.
ELKHART, Ind. (PRWEB) December 03, 2017
An area that was formerly a poster child for the Great Recession now has a problem it could only have dreamed of nine years ago.
Like many communities across the country, Elkhart County, Ind., has a website and a marketing pitch aimed at attracting new business investment to its northern Indiana niche. Unlike many communities, however, Elkhart County has had to divert some of its marketing budget to a slightly different kind of target — not companies but workers. In fact, lots of workers, from just about anywhere on the globe.
"Today the number of open, unfilled positions in our local industries is almost as critical as the lack of such positions were in 2008, when the local unemployment rate hovered around 20 percent," said Mark Dobson, president/CEO of the Economic Development Corporation of Elkhart County. "We don't have enough qualified people to fill the new jobs that are rapidly opening up on a daily basis. I know this falls in the category of 'a nice problem to have,' but eventually it will not be if large employers' needs for skilled labor keep growing."
Last year, Elkhart County had 14 significant business expansions and one company relocating into its market, creating a need for 2,500 new employees. In 2017, 10 more companies had significant growing, increasing the need for another 3,000 employees. Plus, three new companies moved to Elkhart County. Currently, there are 20 sites under construction in the market that serve the RV industry, which adds another 3,500 employee minimum demand.
"We're booming!" says Dobson. "Faster than the rate of US Census Bureau growth."
The county's main industry, Recreational Vehicles, is experiencing a huge spike in business with a projected increase for 2018, making the need for workers even more critical. So Elkhart County is touting its benefits as a community through sophisticated job search engines on the web that reach people and promote the area in many different countries around the world, and mainly through ElkhartWorks.com.
"It's difficult if not impossible to measure how many people may have heard about our situation on the web and moved here because of that," said Dobson. "And it would be some time before any significant surge in job applicants locally would become evident. But we've gotten some positive analytics about the number of people who have visited our website at elkhartworks.org and made a quality visit — that is, they actually stayed on the site for a while to see what we have to offer. They can access our job listings right on the site. So, we see promise in this effort. It's really a campaign that draws attention to this entire region of Indiana, including St. Joseph County."
One of the factors in the surge in Elkhart County employment is also, ironically, the same factor that drove unemployment numbers up during the Great Recession — the RV industry. When retirement funds headed south and various sources of income dried up, RVs suddenly became a luxury people could do without. Then, as the recession eased, companies that were still in business merged or bought other companies and often consolidated operations in Elkhart County, already known as the RV Capital of the World, but now with more than 80 percent of the industry's manufacturers and suppliers located here.
"What was an industry that was very concentrated in Elkhart County became even more concentrated here," said Dobson. "The last few years have been boom times for the industry. More younger people are buying RVs and retired people have more of their nest egg back now to use."
Other businesses have expanded or moved in as well. "And it gets to be a chain reaction. Suppliers want to be closer to manufacturers and so on," said Dobson, emphasizing that there are many jobs open in a number of occupations beside RVs — healthcare, education, engineering, construction, and various levels of management. Wages encompass a wide average of hourly pay from $15 to $55 an hour, and many manufacturers pay for piece work, which gives workers the flexibility to earn more than the usual base pay.
"Then factor in that the cost of living is lower than average in the U.S. and much lower than in a big city. Yet the amenities of Chicago and Lake Michigan are two hours or less away, and Indianapolis and Detroit two and a half and three hours away," said Dobson.
"Our school systems are among the safest in the state, and we're within an hour's drive from a wide variety of outstanding universities, colleges and technical schools, including the likes of Notre Dame, Indiana University South Bend and Indiana Ivy Tech. Unlike some places, we have thriving small towns, commercial strips old and new, government and private support for fledgling businesses, and bedrock, Midwestern values amplified by the Amish community that lives and works beside us. We are blessed to have a location that is very attractive place to live and work," said Dobson.
"All we have to do now is let people know we're here."