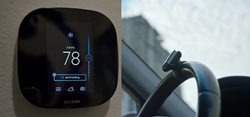 NEW YORK (PRWEB) December 04, 2017
JINNI is a cross-platform portable device that provides access to all virtual assistants Alexa, Ok Google, HelloJinni (for Droids) or Siri (for iOS) in one device, Check it out, recently launched on Indiegogo.
 
Using just two buttons, toggle between the different virtual assistants, play music, listen and respond to messages, control IoT products and more. Without ever taking out the phone, or needing to buy an Amazon Echo or Google Home, Jinni will assist when with directions, sending a message, or ordering from Amazon. Jinni will allow access to Home automation products: locking the door for you, turning on a light as well as ordering an Uber.
Jinni is at home, in the office, on vacation or business trip. While running, or running errands.
Jinni is also quite versatile – clip Jinni onto a pocket, attach it to a shower wall or under the kitchen hood.
The Amazon Echo Dot may have been highest selling product this year, but JINNI doesn't require you to have one. Now beckon Alexa not only from the confines of your kitchen or living-room but outside too. And, with its weeklong battery life when in touch-mode, JINNI is a totally dependable, multi-tiered device.
To learn more about Jinni, please contact ethan(at)schnurassociates.com or call 347-268-0099 to schedule a Jinni demo in person or via Skype.