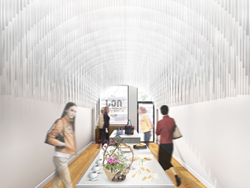 Unrevealed is revealed
NOLITA, N.Y. (PRWEB) December 03, 2017
This coming December COSATEN LLC will launch a pop-up store called the ARCADE JAPAN to show Japanese brands that are carefully selected, high-quality and unrevealed in the United States.
A concept store, the ARCADE JAPAN will launch on Tuesday, December 13th and remain open through Sunday, December 24th with 20 brands.
"Unrevealed is revealed" is the concept behind the ARCADE JAPAN and exemplifies its unknown potential. The Japanese brands featured in our pop-up will be shown for the first time here in the United States.
The concept is created by Minato Fukuoka, co-founder of COSATEN LLC. In Japan, there are so many brands that deserve to be unrevealed to the world. Based on her wish, to spread more products of "made in Japan" to New York, the ARCADE JAPAN is launched. Our store is a place where people can meet brands focusing on creativity, sustainability and functionality. The pop-up aims to be an opportunity for exploration; a creative environment for brands to sell product to a highly targeted consumer, consisted of trade and industry insiders and a hungry trend- driven audience.
The store is designed by Mikio Sakamoto, co-founder of COSATEN LLC and creator of Japanese interior/ architecture company MOVE DESIGN. In Japan, an "arcade" is a market place of artisans selling their wares and an opportunity for buyers to meet the designers in person. Japanese arcades are traditionally constructed like an arc, so our popup will emulate this aesthetic and design.
Location will be set at 251 Elizabeth Street in Nolita, New York. the ARCADE JAPAN will have ready-to-wear, accessories, bags, jewelry and ceramics. Each brand has its own concept and individuality. The space itself will provide an atmosphere where our customers can feel the wonders and magic of the holiday season while keeping warm with our complimentary coffee.
the ARCADE JAPAN
251 Elizabeth St, New York, NY, 10012
For press enquiries please contact:
Yusuke Yamauchi, PR at the ARCADE JAPAN
Email: pr(at)cosaten(dot)com
Tel: +1 929 340 4933
For more information please visit:
http://www.thearcadejapan.com
http://www.instagram.com/thearcadejapan