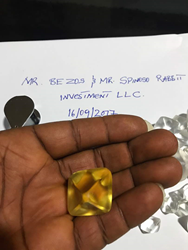 "We Us All Together ...Give to Get...Hop To It"
TAMPA, Fla. (PRWEB) December 04, 2017
Rabbit Investment, LLC http://www.rabbitinvestment.com announces cryptocurrency and hedge fund backed by hard assets of gold and diamonds… all with the added bonus of a flat annual return for account/coin holders, 110% of their "coin" will be asset backed, the assets will be held in a USA based vault, and 100% of the profits used to fund a USA based economic stimulus plan Joe Spinoso calls J.E.S.P. Joe's Economic Stimulus Plan which revolves around the entertainment industry creating a film studio in most every state to make movies and shows from the people in the state and giving back 100% of the profits in the form of deficit repayments, employment opportunities, and infrastructure spending needs affecting every single person and a healthcare/retirement plan Joe Spinoso calls S.H.A.R.P. Synergistic Healthcare And Retirement Plan for every single US citizen because everyone needs both.... it's another one of Joe Spinoso's innovative ideas that offers a WIN WIN WIN for everyone scenario all based off of hard assets. "No more billionaire rich CEOs, this is for the people and not for me…no one needs that much money" Joe Spinoso has pitched his ideas to Jeff Bezos of Amazon, Warren Buffet of Berkshire Hathaway, The Bill and Melinda Gates Foundation, assorted hedge funds, and Banks of the plans to raise the initial capital to spear head the projects. Joe Spinoso had also emailed the previous two presidents; President Clinton and President Obama on meeting to go over his ideas on job creation and healthcare, but only received generic letters and emails when they were in office. Joe Spinoso has emailed Donald Trump before he was President Trump and again now that he is several times in the past months on the subject matter to help make "America Great Again"… also explaining that cryptocurrencies will drastically affect the world market place if not addressed soon and that major retailers like Amazon and Walmart will likely create their own form of cryptocurrencey to offer customers a place to store their money and shop using the retailers company brand named cryptocurrencey card/online account this may be the future and top retailers could independently create their own and bring in paid partners to benefit from this new form of paying, saving, and making. It would be a WIN WIN WIN except for a few like IRS, The FED, Banks and current Hedgefunds unless they create their own cryptocurrencey independently or by joint venturing or aim to denounce/destroy cryptocurrencies altogether.
Joe Spinoso http://www.joespinoso.com has helped small and large companies with ideas to help them grow today and into the future; even Tesla on regenerative shocks to charge the batteries, and a new better material for batteries instead of lithium ion that's even less expensive. Recently Joe Spinoso emailed Amazon owner Jeff Bezos if he would be interested in having the largest diamond online outlet. "It's been time to look outside the box and get fresh innovative ideas; both J.E.S.P. and S.H.A.R.P. plans can help any country, but the USA is just where we should begin". "We can make 'Everyplace Great Again' we only need to work together; creating companies that make money to give back into society in the form of deficit repayment, employment opportunities, and infrastructure spending needs is how to help." "If we all group together as a team we can make everything happen." "This is not a fix all plan it is a help all plan." "The first to the Rabbit Hole is the winner as this new asset backed cryptocurrency and hedge fund will jump start it all."
Joe Spinoso
http://www.joespinoso.com
http://www.rabbitinvestment.com
We Us All Together...Give to Get...Hop To It!