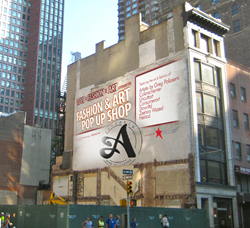 "ARTISTIX is a lifestyle brand," said the brand's Creative Director, Andy Hilfiger. "Our objective is to merge music, art, and fashion by hosting great events like our upcoming Holiday Soirée."
NEW YORK (PRWEB) December 04, 2017
ARTISTIX Fashion, presented by Greg Polisseni and Andy Hilfiger, will host their Holiday Pop Up Soirée on December 8th, at the Love X Fashion X Art pop up located at 275 Canal Street from 6 pm to 10 pm.
The pop up store officially opened on November 18th and will stay open until January 5th. The pop up is a collaboration project between thriving New York City-based artists such as Greg Polisseni of ARTISTIX Fashion, Hektad, Colorschemer, UnCut Art, Stown, Zeehan Wazed and Consumer Art.
"ARTISTIX is a lifestyle brand," said the brand's Creative Director, Andy Hilfiger. "Our objective is to merge music, art, and fashion by hosting great events like our upcoming Holiday Soirée."
The party will begin at 6 pm on December 8th and will end at 10 pm and will include music by DJ Blaze, DJ Plus, performances by Andy Hilfiger and surprise musical guests, as well as beverages sponsored by ROK Drinks.
"We're very excited to host all of the ARTISTIX family in one room," said owner and artist Greg Polisseni. "ARTSTIX has had an amazing year and we're happy to be able to celebrate that success with everyone that has supported us throughout our journey."
The event will serve as an opportunity to view the ARTISTIX Fall/Winter 2017 collection, titled Harvest, and speak with the artists about their upcoming projects.
To attend the event, please RSVP to:
Giana Elenterio
gelenterio(at)artistixfashion.com
(212) 398-3845 Ext: 5
http://www.artistixfashion.com
About ARTISTIX Fashion:
A unique clothing brand founded by artist Greg Polisseni in the Fall of 2013. Greg has found passion in his artwork since childhood by creating original paintings that serve as the inspiration for his fashion lines. Artistix has become a way for him to express his art, design, and creativity not only on a canvas but on clothing as well. The goal of the brand is to bring a fun, edgy, and a distinctive vibe to our clothing that complements your personal style.
About Greg Polisseni:
Greg Polisseni is and artist, fashion designer and visionary. Greg created ARTISTIX in the Fall of 2013 with one clear vision in mind, to create wearable art. Throughout his entire life Greg has found art as way of self expression and wanted to offer the same outlet to consumers. Each of ARTISTIX unique collections are based on an original painting by Greg, making each piece of clothing a collectable item.
About Andy Hilfiger:
Andy Hilfiger joined as the Creative Director of ARTISTIX Fashion in April of 2016 with the vision of elevating the brand to the next level. Andy, who's previous ventures include the launch of the JLo brand Sweetface, the Adam Levine collection and the Nicki Minaj collection, embodies the idea of merging music, art and fashion. With over 30 years of experience in the fashion industry, including his time at Tommy Hilfiger, Andy believes that ARTISTIX is the next big thing in the luxury streetwear culture. Learn more at http://www.andyhilfiger.com
About Love X Fashion X Art:
Love X Fashion X Art is a story of a love affair between fashion and art founded by Bernard Aidan. When fast fashion is everywhere, the need to create more unique pieces made him want to support contemporary artists with wearable art pieces. LFA invites the public to a theatrical art scene for its first ever pop-up event on the iconic Canal Street.