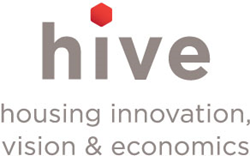 "The future of housing is being created through inspired innovation," said Peter Goldstone, CEO of Hanley Wood.
WASHINGTON (PRWEB) December 06, 2017
Hanley Wood, the premier information, media, event, and strategic marketing services company serving the residential, commercial design and construction industries, is pleased to announce this year's HIVE 50 Honorees, who will be celebrated at the second annual HIVE Conference in Los Angeles this week.
"The future of housing is being created through inspired innovation," said Peter Goldstone, CEO of Hanley Wood. "The HIVE 50 honorees are examples of true innovation that comes from collaboration and a connection to the best of thought leadership in other industries. We are honored to highlight the contributions of these innovators at HIVE and look forward to seeing what they create in the future."
The HIVE 50 are drawn from the top people, products and processes that are leading the charge to inspire creativity, higher performance, and innovation in housing. This year's honorees are separated into five categories – building technology, capital, design, intel and strategy. Honorees by category include:
BUILDING TECHNOLOGY:

Magued Eldaief, CEO, Prescient
BMC's Ready-Frame System
Marc Bovet, Founder and President, BONE Structure
John Brooks, President BRINC Building Products
Eric Clifton, Founder and CEO, Orison
GO Logic's GO Lab
IrisVR's Prospect System
Nitin Kulkarni, President, Smart Energy, Honeywell Home and Building Technologies
Joe Lstiburek, Founding Principal, Building Science Corp.
Mehrdad Mahdjoubi, Founder and CEO, Orbital Systems
Elon Musk, CEO, Tesla
Michael Niemann, President and Founder, HercuTech
Richard Riman, Distinguished Professor, Rutgers University, Department of Materials Science and Engineering
William Rose, Professor Emeritus, University of Illinois Champaign-Urbana
Aaron Salow, CEO and co-founder, XOi Technologies
Christian Sanz, CEO and Founder, Skycatch
Sajiv Singh, Developer, Aerial Robotic Infrastructure Analyst (ARIA)
University of Colorado Boulder's Glass Polymer Metamaterial Cooling Film
CAPITAL:

Eve Picker, Founder and CEO, Small Change
Brian Bair and Jerry Coleman, Co-Founders and Co-CEOs, OfferPad
Nicolay Boyadjiev, Designer, Strelka Institute for Media Architecture and Design
Shamayim Harris, Founder and CEO, Avalon Village
Kenneth Holt, Secretary, Maryland SmartBuy, Maryland Department of Housing and Community Development
Alex Lintner, President of Consumer Information Services, Experian
Ben Miller, CEO and Co-Founder, Fundrise
Puyin Blockchain Group, Sendera Ranch, Texas
Keith Rabois, Eric Wu, Ian Wong and JD Ross, Co-Founders, Opendoor
DESIGN:

Brian Lee, Design Partner, Skidmore, Owings & Merrill (SOM)
Carlo Ratti, Founder, MIT Senseable City Lab, Carlo Ratti Associati
Angela Brooks and Larry Scarpa, Principals, Brooks & Scarpa
Dave Everson, Owner and CEO, Mandalay Homes
Mimi Hoang and Eric Bunge, Principal nARCHITECTS
Florian Idenburg, Founding Partner, SO-IL
Korte Co.'s 5D Macro BIM
Lennar Corp. – Wi-Fi Certified Homes
Alexis Rivas, Co-Founder and CEO, Cover Technologies
Al Tozer, Architectural Designer, Tozer Design
INTEL:

Eric Potter, Director of Applied Innovation, Waterton
Rohit Arnand, Principal, KTGY Architecture + Planning
David Auld, President and CEO, D.R. Horton
John Cohlan, CEO, Margaritaville Holdings
Will Coleman, CEO, Lucid
NEXTadventure Home, Taylor Morrison
STRATEGY:

Fritz Wolff, Co-Founder, Katerra
Jeff Blau, CEO, The Related Cos.
Barbara and Mike Feigin, Founders and Owners, Design Tech Homes
Emile Haddad, Chairman and CEO, FivePoint Holdings
Dana Pillai, Executive Director, Well Living Lab and President, Delos Labs
Isami Wada, Chairman and CEO, Sekisui House
Information about each of the honorees and their innovations can be found at http://www.hiveforhousing.com/hive-50/.
HIVE, which will take place at the Intercontinental Los Angeles Downtown from December 6-7, 2017, is an unparalleled opportunity to connect and network with an exclusive lineup of C-suite, thought-leaders, policy makers and game-changers from an array of industries. HIVE 2017 is supported by title and underwriting sponsor, Ply Gem, and founding sponsors, Electrolux, Kohler, Louisiana-Pacific and Samsung. To register or for more information about the conference, please visit the website.
ABOUT HIVE
HIVE is the premier event that concentrates on every aspect of housing: Innovation, Vision and Economics. Founded in 2016, HIVE brings together the best and brightest construction and design professionals, academics and thought leaders from an array of industries passionate about design, business strategies and innovation to stimulate new ideas and shape the future of how people live, work and play. HIVE 2017 is supported by title and underwriting sponsor, Ply Gem, and founding sponsors Electrolux, Kohler, Louisiana-Pacific and Samsung.
ABOUT HANLEY WOOD
Hanley Wood is the premier company serving the information, media, and marketing needs of the residential, commercial design, and construction industry. Utilizing the largest analytics- and editorial-driven construction industry database, the company provides business intelligence and data-driven services. The company produces award-winning media, high-profile executive events, and strategic marketing solutions.