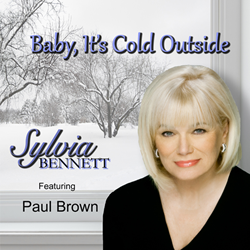 "Well, this is one great listen, and as mentioned above. Add it to you holiday playlist, you will thank me later folks. It hits the spot. Two formidable talents on one track, reminds me of great duos like Streisand and Gibbs, this one will stand the test of time." J. Pepper, All About Vocals
MIAMI (PRWEB) December 03, 2017
International Recording Artist Sylvia Bennett teamed up with double Grammy winner Paul Brown and critically-acclaimed Miami producer Hal S. Batt for a tour de force, musical holiday surprise, a sophisticated, charismatic cover of Baby, It's Cold Outside. This musical trio has taken the charts by storm entering the Billboard Adult Contemporary Indicator Chart at #20.
Baby, It's Cold Outside delivers a sweet blending of Paul's soulful and rugged with Sylvia's flawless, velvety delivery! With a smile, smirk and classic sex appeal Bennett thwarts Brown's characterization of the tune's relentless and compelling argument for staying snuggly indoors! A fun, festive arrangement featuring bouncy horns a plenty, and the duo's irresistible, albeit confounding chemistry, makes it impossible to listen once... the video is even more addictive!
This unique and modern version of Baby, It's Cold Outside is sure to become the favorite tune on your holiday playlist!
Sylvia Bennett is a Grammy nominated pop jazz singer and songwriter who has performed at Presidential Inaugurations and opened for such renowned artists as Bob Hope, Phyllis Diller, Jackie Mason, Dizzy Gillespie, Barry Gibb and David Brenner. Discovered by the legendary Lionel Hampton, she has since captivated audiences and critics alike with her sultry and honeyed toned voice. She's the inimitable, unforgettable Sylvia Bennett.
Baby, It's Cold Outside is available for sale on Amazon, iTunes and CD Baby. Visit SylviaBennett.com for the latest news.