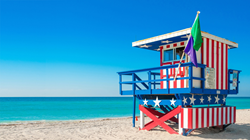 We believe there's no better way to start the year than by planning your next getaway
MIAMI (PRWEB) December 02, 2017
The Beacon South Beach Hotel is excited to announce their 2018 Early Bird Special, a limited-time offer that rewards guests who plan ahead with 25% off boutique accommodations at this Ocean Drive hotel. In addition to the rate discount, direct bookers will also receive extra perks including breakfast, premium Wi-Fi, beach chairs and towels, early check-in, late check-out, in-room Nespresso coffee, and a welcome amenity.
This special offer is a great opportunity for both new and returning guests to treat themselves to the Five Diamond Service at Beacon South Beach. With early check-in and late check-out, visitors are encouraged to spend more time unwinding in the comfortable rooms and suites at this top Miami hotel. In addition, complimentary beach chairs and towels make it even easier to enjoy some of the area's most popular beaches. Ideally located near the best shopping, dining, and nightlife destinations, Beacon South Beach is the perfect choice for a relaxing and entertaining getaway.
"We believe there's no better way to start the year than by planning your next getaway," Javier Santamaria said. "Our exclusive Early Bird Special gives guests the extra motivation they may need to go ahead and make their 2018 vacation plans."
Payment is due in full at the time of booking the 2018 Early Bird Special, and a seven-day cancellation policy applies. For more information, please visit The Beacon South Beach website.
About The Beacon South Beach Hotel
The Beacon South Beach Hotel first welcomed guests to South Beach in 1936 and has housed visitors ever since. A staple of the legendary Ocean Drive, the Art Deco décor of Beacon South Beach serves as an iconic mainstay that is rivaled only by the stellar service of the proficient staff. The beachside boutique hotel has dedicated years to providing guests with the highest standards of comfort, and its prime location in the epicenter of South Beach has led to its status as one of the premier hotels in Miami. For more information, visit http://www.beaconsouthbeach.com/ or call (305) 674-8200. Follow Beacon South Beach at facebook.com/beaconsouthbeach, and on Instagram and Twitter @beaconmiami.