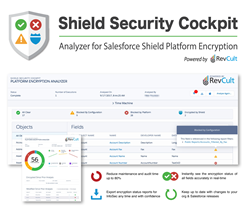 "RevCult's Shield Security Cockpit allowed us to rapidly meet the security and regulatory requirements from some of the largest health insurance organizations and provided me with the peace of mind knowing that our customers' data is safe and secure." Rohith Ramesh, SVP Client Services, Episource
San Diego, CA (PRWEB) December 05, 2017
RevCult today announced it has launched Shield Security Cockpit on the Salesforce AppExchange, empowering businesses to connect with their customers, partners and employees in entirely new ways. As a Salesforce partner since 2011, RevCult has consistently built tools that deliver top results for our customers. Shield Security Cockpit was purpose-built based on our experience helping customers optimize their investment in Platform Encryption.
The Shield Security Cockpit helps Platform Encryption users:

Reduce maintenance and audit time up to 80%
Export encryption status reports for InfoSec any time and with confidence
Instantly see the encryption status of all fields accurately in real time
Keep up to date with changes to your org & Salesforce product releases
Shield Security Cockpit is especially useful for Salesforce customers in regulated industries (e.g. Financial Services, Healthcare, and Government). Built on the Salesforce Platform, Shield Security Cockpit is currently available on the AppExchange at [https://appexchange.salesforce.com/listingDetail?listingId=a0N3A00000ErGNNUA3.
Shield Security Cockpit:
Shield Security Cockpit automates the ongoing analysis, mitigation, and compliance reporting for Salesforce orgs that have deployed Shield Platform Encryption. In real-time, a Shield Security Cockpit user can see the status of every field and the business impact and/or mitigation required to support all of info security's encryption requirements. Additionally, a Shield Security Cockpit user can see compliance reports with real-time history showing the status of all objects and fields in any org. With these benefits, Shield Security Cockpit drives additional value to Salesforce application owners, Salesforce application engineers, and Info Security constituents. The AppExchange provides a robust vehicle for the market to know about Shield Security Cockpit and a low friction way to buy the product.
Comments on the News:
"RevCult has a strong following of happy customers that have achieved amazing results (9.98 Salesforce Customer Satisfaction Rating). Shield Security Cockpit is the next chapter of our story. We are excited about both the collaboration with Salesforce and the tremendous feedback we have received from the market on Shield Security Cockpit." Brian Olearczyk, Partner, VP Sales & Marketing, RevCult.
"RevCult's Shield Security Cockpit allowed us to rapidly meet the security and regulatory requirements from some of the largest health insurance organizations, provided me with the peace of mind knowing that our customers' data is safe and secure, and drove dramatic growth as one of Inc 500's fastest growing companies for 4 consecutive years." Rohith Ramesh, SVP Client Services, Episource
"Everyone and everything is getting smarter and more connected than ever before, and companies are looking to transform the way they connect with customers, partners and employees," said Kori O'Brien, SVP, ISV Sales, Salesforce.
About Salesforce AppExchange:
Salesforce AppExchange, the world's leading enterprise cloud marketplace, empowers companies to sell, service, market and engage in entirely new ways. With more than 4,000 solutions, 5 million customer installs and 70,000 peer reviews, it is the most comprehensive source of cloud, mobile, social, IoT, analytics and artificial intelligence technologies for businesses.
Additional Resources:
• LinkedIn
• Facebook
• Twitter: @revcult
Salesforce, AppExchange and others are among the trademarks of salesforce.com, inc.
About RevCult:
RevCult is a Southern California based strategy and technology implementation company that has helped companies across many industries maximize their investment in Salesforce since 2011. RevCult uses an outcome-based approach to deliver solutions that solve real business problems, maximize ROI, and increase users' satisfaction. In addition to Shield Security Cockpit, RevCult also offers Salesforce Services including SmartStart implementations (eg. Shield, Sales Cloud, CPQ, Field Service Lightning), process improvement projects (eg. sales, marketing, operational process re-alignment), and custom application development (eg. Force.com, Service Cloud, Heroku). Learn more at revcult.com.