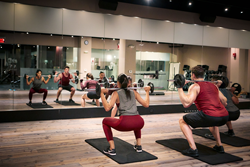 We combine the top trends in fitness with best-in-class service, plus one of the coolest sports entertainment experiences with the Topgolf Swing Suite
Boston, MA (PRWEB) December 12, 2017
Lynx Fitness Club, Boston's newest luxury fitness club, will be coming to Back Bay in January. Lynx is opening at 64 Arlington St., in the historic Boston Park Plaza, at the former David Barton Gym location. Lynx is a new and innovative high-end fitness concept that combines the best equipment on the market, group and individualized training, New England's first Topgolf® Swing Suite for year-round play and private events, and a limited membership model.
Lynx's all-new facility features a large multi-functional turf training facility, state-of-the-art cardio and strength equipment, two group fitness studios, Peloton bikes and Rogue power racks. Lynx also offers dynamic group classes, top personal trainers and instructors, luxury locker rooms, and an easily accessible location. For members looking to improve their golf game, Lynx provides access to on-staff PGA-certified golf professionals, as well as Titleist Performance Institute-certified fitness trainers.
Lynx's limited membership model will cap the club's membership well below what the facility can handle, in order to avoid overcrowding and consistently deliver a high-quality member experience. Memberships are available now and are expected to sell out quickly.
"Lynx hopes to redefine the concept of luxury fitness in Boston. We are a full-service fitness club, with an urban club feel, and an emphasis on first-class service and community," said Lynx Co-founder and CEO Bill Najam. "We are very excited to bring this unique concept to Boston."
"We combine the top trends in fitness with best-in-class service, plus one of the coolest sports entertainment experiences with the Topgolf Swing Suite," said Co-founder Chris Protasewich. "Members can get an awesome workout, play a round of golf, and enjoy a cold beer or cocktail with friends or clients, all within blocks of their home or office."
Topgolf® Swing Suite is an immersive social experience offering guests a comfortable lounge to play golf, while enjoying fantastic food and beverage service. With a massive screen and a selection of exciting virtual games, the Topgolf Swing Suite delivers a one-of-a-kind simulation that's exciting for golfers and non-golfers alike.
Co-founder Michael Buckley added, "We saw a void in the Boston fitness marketplace, and have spent the last year bringing this new concept to life. The club's staff and every detail of the physical space, down to the music and art, will inspire our members." said Co-founder Michael Buckley. "Lynx is locally owned and operated, and we are proud to call Boston our home."
For more information about Lynx Fitness Club, go to http://www.LynxFitnessClub.com.
About Lynx Fitness Club: Located in Back Bay one block from the Boston Public Garden, Lynx is Boston's premier fitness and golf club, combining all the benefits of a luxury gym with the amenities and lifestyle of a modern day urban club. Lynx brings together the top trends in fitness, expert training staff, state of the art facilities and equipment, luxury amenities, and Boston's first Topgolf® Swing Suite for year-round golf training and entertainment.
To inquire about membership availability and rates, please contact membership(at)lynxfitnessclub(dot)com.
Additional Images can be found here:
http:// https://www.dropbox.com/sh/th4933errvgblqm/AACO3R4OVgJJe81FCN9sacUha?dl=0