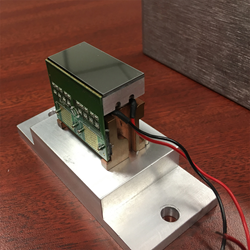 The Sydor HE Keck PAD will...help initiate the development of new and improved safeguards to protect against future threats.
ROCHESTER, N.Y. (PRWEB) December 21, 2017
Sydor Instruments, a Sydor Technologies Company, announced today that it has been awarded a $981,918 Small Business Innovation Research (SBIR) Phase II contract to extend the capabilities of Sydor's existing Keck PAD technology. The Keck PAD detector chips, which were developed by Prof. Sol Gruner's group in the Department of Physics at Cornell University, have recently been incorporated by Sydor into a commercial platform designed for use with x-rays below 20 keV. The DTRA SBIR will develop a new capability, called the Sydor HE (High Energy) Keck PAD, which can operate with the higher X-ray energies required to study many materials. Sydor will commercialize and support the technology for use at facilities worldwide.
The Sydor HE Keck PAD is unique in that it can capture 8 sequential frames of data at rates of up to 10 million frames per second. This is very critical for materials science studies in single shot or irreversible processes, where the sample is fully destroyed while measuring. The Sydor HE Keck PAD uses a high atomic weight sensor architecture, allowing efficient detection of the high energy X-rays (c.a., 20 to 100 keV) needed to penetrate and explore fine structural details of thick or dense materials, such as many metal and ceramic parts.
Mark Katafiaz, Vice-President of US Operations, states "Sydor Technologies is proud to be selected to continue this important development that will advance material's science studies for the Defense Threat Reduction Agency and government agencies worldwide and help them understand threats from hazardous materials. The Sydor HE Keck PAD will allow assurance testing of older materials used in our current arsenal, as well as help initiate the development of new and improved safeguards to protect against future threats."
About Sydor Technologies
Sydor Technologies (http://www.sydortechnologies.com) is a global leader in providing comprehensive, customized solutions for the most complex measurement challenges in the defense, energy, security, and research industries. The company has three primary business units—Imaging Detectors, Electronics, and Ballistic Testing Systems. Each business unit addresses unique industry requirements for high-speed applications. The company operates in 33 countries around the world with its world headquarters located in Rochester, NY.