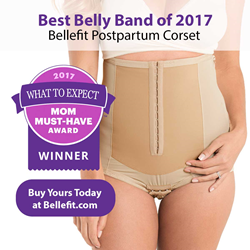 For new moms that are looking to feel more comfortable and secure while their body is healing, this is the belly band for you
WESTON, Fla. (PRWEB) December 02, 2017
"What to Expect" recently announced its 2017 Mom Must-Have Awards and Bellefit Maternity couldn't be more pleased with the results. Shared via a Nov. 7 Facebook Live event, which was broadcast worldwide, Lifestyle Editor Emma Bing described the Bellefit brand as a must-have product for new moms who are looking to feel more comfortable and secure while their bodies are healing. And thousands of women around the world agreed: Bellefit is THE Must-Have Belly Band.
More than 6,000 moms participated in the What to Expect Mom Must-Have Awards this year, taking advantage of the opportunity to nominate the products that worked best for them. Of the six finalists that received thousands of online votes in the Best Belly Band category, Bellefit was named the favorite product, thanks to its ability to help support postpartum healing and ease pain.
"It is our mission to offer comfort during a time when a woman's body is healing," said Cynthia, the company's Founder. "New moms should be able to enjoy time with their babies and families. The last thing they should be experiencing is pain and discomfort during one of the happiest times in their lives."
Bellefit founder Cynthia Suarez developed the company's first girdle in 2008 in response to her own adult daughter's postpartum suffering. C-section recoveries can be extremely difficult and the Bellefit girdle is designed to help women recover better, reducing pain and increasing comfort.
"I put on the Bellefit Postpartum Corset and the pain literally vanished," said Kris L., nominee. "I've been able to be up and about almost like normal, which is essential since we are still having to go back and forth to the NICU in the car."
Bing also shared some of the comments nominees posted with their submissions, including a mother of twins who described the relief she felt when she first put the Bellefit Girdle on.
"For new moms that are looking to feel more comfortable and secure while their body is healing, this is the belly band for you," Bing said.
The "What to Expect" series, considered one of the most influential titles of the past 25 years, has served as an authority of resources for moms since its first publication in 1984. Titles include "The First Year," "When You're Expecting," "The Toddler Years," and "Eating Well When You're Expecting."
Cynthia said the company is incredibly honored by the nomination and is proud to be given the 2017 Mom Must-Have Award.
"The 2017 Mom Must-Have Seal of Approval is a true testament to the excellent products Bellefit has been providing to women around the world since 2008," Cynthia said. "We are truly humbled by the announcement and couldn't be happier that our products are allowing women to enjoy the special moments that follow the birth of a child, without pain or discomfort."