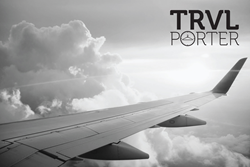 LOS ANGELES (PRWEB) December 05, 2017
Trvl Porter, a company that is changing the way female travelers experience fashion and luxury travel, announced today that it has elected Jeff Demain, CEO of Hantheon, to its Board of Advisors. This continues to strengthen Trvl Porter's growth by complementing existing Board member Andrew Bart and CTO Barbara Bickham. Andrew is an angel investor and tech entrepreneur, and Barbara has extensive technology development and entrepreneurial experience. Jeff stated, "I look forward to assisting Trvl Porter in the continued innovation of their business model and making an impact in both fashion and travel industries."
Trvl Porter is a luxury style concierge for the female traveler. We lend a personalized wardrobe to your hotel destination. You travel without the hassle of luggage. Trvl Porter creates your wardrobe based on your trip details and style preferences. Then you travel to your destination to find the wardrobe already at your hotel. When your trip is over, simply leave the clothing in the provided pre-paid shipping envelope with the front desk. Donna Compaglia, Editor and Publisher of Impact Magazine, stated, "I travel often, but not lightly. Magazines are heavy! It has been so nice to have beautiful outfits waiting for me when I arrive at my hotel. Trvl Porter's stylists have been a fun and practical travel savior."
Trvl Porter recently soft-launched their concept in the western United States. They are looking for busy, female travelers who would like to try this travel-enhancing service. A broader launch will take place in 2018. Trvl Porter is strategically expanding their growth to ensure their entire platform scales smoothly and all clients have a delightful experience.
Trvl Porter is very excited to advance the way that people travel and improve the personalization of the guest experience through fashion. "With our pre-styled wardrobe waiting at your hotel destination, you'll never travel the same again!" said Stefanie Nissen, CEO of Trvl Porter.
Contact
To learn more about engaging with Trvl Porter, please contact:
Stefanie Nissen, CEO
https://www.trvlporter.com
info(at)trvlporter(dot)com
To learn more about engaging with Hantheon, please contact:
Jeff Demain, CEO
http://www.hantheon.com
hello(at)hantheon(dot)com