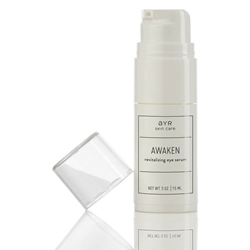 "Awaken Revitalizing Eye Serum has a feather light and silky smooth texture with a light fruity scent. Most individuals can hardly feel it working even though it has a kick to it."
SAN JUAN CAPISTRANO, Calif. (PRWEB) December 04, 2017
Holiday stress can make a person's eyes look like they just went 12-rounds with "Bad Santa".
Lucky for our holiday photos, newly launched Ayr Skin Care Care (Ayr, pronounced like "Air") just introduced a powerful nontoxic and natural eye revitalizing serum to gently rescue people with sensitive skin from excessive puffiness, dark circles and fine lines around their eyes.
Ayr Skin Care's Awaken Revitalizing Eye Serum has received an overwhelming response since the family-operated company went online from their San Juan Capistrano, California headquarters over the summer.
"It helps diminish the signs of aging for women and men of all skin types," said Fiona Briggs, vice-president of Ayr Skin Care Marketing and Operations. "Most people notice a difference within two to three weeks of use."
"The skin around the eyes is especially vulnerable to stress largely because it's significantly thinner than the skin on the rest of the body", she said.
"Awaken Revitalizing Eye Serum has a feather light and silky smooth texture with a light fruity scent," Briggs said. "Most individuals can hardly feel it working even though it has a kick to it."
The eye serum, like all of Ayr Skin Care's products contain no parabens and petrochemicals commonly found in many skin care lines. All Ayr Skin Care products are also gluten, soy and dairy free. Synthetic dyes and perfumes are shunned.
Instead of cheap and harsh ingredients, the Ayr Awaken Revitalizing Eye Serum is packed with marine algae rich with omega 3 fatty acids and bioactive compounds that revitalize the skin around the eyes.
A blend of cucumber, panthenol, chamomile and what Briggs calls "power-packed botanical extracts" cools the skin and leaves your eyes looking beautifully bright and alert.
Ayr adds probiotics, green tea, pomegranate and anti-oxidant rich caffeine to reduce the puffiness.
The serum also uses a blend of collagen-building tripeptides to reduce fine lines, and to increase elasticity as well as firmness around the eyes.
It's recommended to use the serum once a day before bed. Briggs, however, uses it in the morning and before bed each day. In a YouTube demonstration video, Briggs shows how to apply a tiny dab -- about the size of a grain or two of rice -- to the area around the eyes.
The Awaken Revitalizing Eye Serum, which comes in a half-ounce air-tight pump bottle for $108, was developed by Briggs mother and Ayr Skin Care Founder, Kirsten Thomas.
"She always had very sensitive skin," Briggs said. "As she hit her 40s and 50s, she wanted strong anti-aging benefits without harsh synthetic products."
The eye serum and the rest of the product line were created by Brigg's mother, Kirsten Thomas, out of necessity for her skin care. She started sharing them with friends, and the friends begged for more. This is how Ayr Skin Care was born.
Thomas wanted to honor her mother's lifetime of caring by naming the company after the seaside town where her mother was born – Ayr, Scotland. It's a beautiful resort town on the west coast of the Lowlands near Glasgow, and a ferry boat ride away from Belfast, Northern Ireland.
Now the mother and daughter team are extending that caring and the vibrant brilliance of Scotland to anyone whose sensitive skin can endure no more.
Research the Ayr Skin Care Awaken Revitalizing Eye Serum by going to Ayrskincare.com.