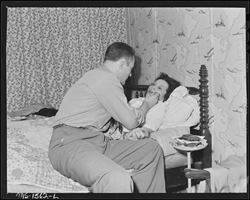 Highly useful information is often more easily discovered by a doctor in a home setting.
LOS ANGELES (PRWEB) December 04, 2017
A November 30 article on Medical News Today reports on a study looking into anaphylaxis, a serious and potentially life-threatening type of allergic reaction that can be marked by difficulty breathing, dramatically lowered blood pressure, and sometimes fainting spells. The most common known causes are agents obtained from food, medications, and biting insects. A new study looked at a number of patients whose anaphylactic reactions had no known cause. It turned out that 70 patients in the group appeared to be allergic to a certain type of sugar molecule found in beef, lamb, and pork. Dr. Farzam says that this kind of highly useful information is often more easily discovered by a doctor in a home setting.
Dr. Farzam cites the fact that house call doctors are often able to see things that would not be apparent during a standard office visit and which a patient might easily neglect to mention. For example, in the case of an allergic reaction, a doctor might actually be able to observe or verify certain facts. Dr. Farzam says that one example might be if a doctor, after having stabilized a patient with anaphylaxis, might notice the smell of cooked hamburger or pork chops in the air. He might even ask if he can open the refrigerator to see what foods the patient is eating on a regular basis.
On the subject of smells, Dr. Farzam notes that there have been instances when a house call doctor has been called regarding certain kinds of common symptoms such as lightheadedness or nausea which seem to have no known cause. He notes that, upon entering a home, a doctor may occasionally smell a toxic substance such as natural gas, heading off potentially very deadly carbon monoxide poisoning. He also says that certain factors that patients might be tempted to conceal from doctors may become apparent. For example, patients might be embarrassed to admit that they have relapsed and started smoking again. Dr. Farzam adds that such clues as a butte in the front yard or lingering smells (or the heavy use of air freshener to hide it) can often tell the tale. The result is more effective treatment, says the doctor.
Dr. Farzam concludes by noting that, in addition to a more individualized view of a patient's overall situation, house call doctors are able to spend significantly more time with patients. He adds that anyone who has experienced the sort of rushed care that is often provided at standard urgent care clinics can understand the advantages of working with a doctor who actually has time to listen.
Readers who would like to learn more about the services provided by House Call Doctor Los Angeles may call 310-849-7991 or visit http://www.HouseCallDoctorLA.com. The service regularly provides urgent care 24 hours a day, seven days a week, 365 days a year.