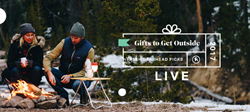 PORTLAND, Ore. (PRWEB) December 04, 2017
Brandlive has announced a strategic partnership with Backcountry, the online retailer specializing in outdoor gear and clothing. Brandlive is the interactive live video platform used by brands and retailers for product training, consumer marketing and commerce events.
This holiday season, Backcountry will engage with its audience via Brandlive for three days of live events from December 5-7, featuring product selections from brands such as Arc'teryx, Danner, GoPro, Mountain Hardware, Yakima, Black Diamond, Smartwool and The North Face. This will allow Backcountry to give consumers an interactive retail experience with the products they have selected for its 2017 Holiday Gift Guide.
"Backcountry is constantly looking to connect to our community in new ways, and this year we've seen increasing engagement with live content versus more traditional media," said Nicole Sumner, Digital Brand Manager at Backcountry. "We're thrilled that Brandlive is partnering with us for our first big push into live video, which we fundamentally believe will help us bring together the curated products and Gearhead expert knowledge that are unique to us, and further our mission to provide the best experiences for our community."
Each featured brand will have the opportunity to engage in a live discussion around its products with Backcountry's product experts and enthusiasts, known in the Backcountry community as "Gearheads." The Brandlive platform will let the audience ask Gearheads questions in real time, and purchase products right off the event page.
"By incorporating live video into its Holiday Gift Guide, we expect Backcountry to see increased engagement with an already enthusiastic consumer base, and measurable sales results," added Fritz Brumder, CEO of Brandlive.
This live video event is the latest in Backcountry's push to forge stronger digital connections with its vast online audience. The outdoor retailer has seen success with campaigns like #ChaseyourGOAT -- in which participants post their inspirational outdoor pursuits to social media -- along with a continued emphasis on connecting product enthusiasts and ambassadors directly with consumers.
To register for the events, visit: https://www.backcountry.com/sc/live-holiday-gift-guide.
Representatives for both Brandlive and Backcountry are available to respond to press inquiries related to this partnership.