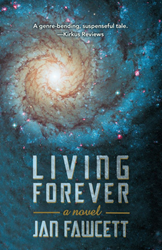 SANTA FE, N.M. (PRWEB) December 04, 2017
Author Jan Fawcett, M.D., has released "Living Forever – A Novel" which presents an intriguing philosophical discussion about the ethics involved in the progression of humanity and technology.
"Living Forever" introduces readers to sixty-eight-year-old Dr. Ian Farrell who is facing imminent death after a grim cancer diagnosis. However, he has no idea that he will soon have a tempting carrot dangled in front of his nose: the chance to live forever.
When Ian lands back in the hospital for more tests, two agents from a governmental research agency ask him to submit to an attempted transfer of his mind to an electronic chip. With very little time left to live, Ian accepts.
In this intriguing novel, a dying man now left with nothing but his consciousness must create a new identity and partner with a brilliant neurophysicist in order to save humankind from a destructive technology.
Currently, a five-star reviewed book on Amazon, "Living Forever" has earned raved reviews from critics:
"This work of intellect and philosophy peopled by warm, sympathetic characters builds a flowing narrative that offers insight into the way the human mind operates." – Foreword Reviews
"Throughout this compelling story, Fawcett makes fascinating inquiries about life, evolution and the true nature of man, proving that with all of our technology, the human mind still remains the most powerful and mysterious tool."– Kirkus Reviews
"Living Forever – A Novel"
By Jan Fawcett
ISBN: 978-1-4759-8459-0 (sc), 978-1-4759-8460-6 (hc), 978-1-4759-8461-3 (e)
Available at Amazon, Barnes & Noble, and iUniverse
About the author
Jan Fawcett, M.D., has spent his life treating patients, teaching, and conducting research aimed at improving treatment for depression and preventing suicide. He is a national expert in the field of psychopharmacology and is a professor of psychiatry at the University of New Mexico. After he was diagnosed with malignant melanoma, he had an epiphany that led him to decide not to wait until he was dying to do what he wanted to do. He currently lives in New Mexico.
For Review Copies & General Inquiries Contact:
LAVIDGE – Phoenix
Lauren Dickerson
ldickerson(at)lavidge(dot)com
480-998-2600