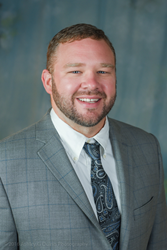 The Rotation Medical implant is making a difference in these patients' lives.
Ashland, KY (PRWEB) December 04, 2017
Smith Orthopedics & Sports Medicine, PSC today announced that Dr. Jarrod Smith is the first in Ashland to treat patients suffering from rotator cuff disease using the Rotation Medical Bioinductive Implant – a new technology that helps tendons heal through the induction of new tissue growth, potentially helping patients resume normal activities quicker than traditional treatment and reducing the likelihood of further degeneration or re-tears.
The minimally invasive system is designed as a new option for people suffering from rotator cuff tendon tears in the shoulder joint, which affect more than 4 million people annually in the U.S. and are the most common source of shoulder pain and disability.
"Rotator cuff injury is common, and many patients avoid surgery because they hear about painful, lengthy postoperative rehabilitation and time away from work," said Dr. Jarrod Smith. "The Rotation Medical Bioinductive Implant, which is about the size of a postage stamp, is inserted through a small incision during a minimally invasive procedure. The Bioinductive Implant induces the formation of new tendinous tissue over the surface of the tendon, resulting in a thicker tendon. Depending on their stage of rotator cuff disease, the Bioinductive Implant can provide patients a range of potential benefits, including shorter rehabilitation, faster recovery, prevention or slowing of disease progression, healing of partial-thickness tears, and decreased risk of developing a subsequent tear."
Rotator cuff tears are most often caused by chronic wear and tear with degeneration of the tendon. Rotator cuff tears can also occur in people who repeatedly perform overhead motions in their jobs or sports. In fact, more than 50 percent of people over age 60 have symptoms. Because traditional treatments do not address the poor quality of the underlying tendon tissue, a significant number of these tendons often develop into larger, more painful and debilitating tears and/or re-tears due to continuing degeneration of the torn tendon. The Bioinductive Implant allows surgeons to intervene early and potentially prevent disease progression by augmenting and healing the tendon before the injury worsens.
"I had a patient with a full-thickness rotator cuff tear. After examining her tendon tissue in surgery, I could tell that it was deficient and might have a hard time healing. Before the Rotation Medical implant was released, there was little I could do to affect tissue quality. I made the decision to utilize the Rotation Medical implant along with my standard repair and it has made a huge difference in her rehab time, pain control, and function. She has drastically exceeded my expectations. Each patient is different, but her results (as well as the results of other patients I've treated) give me hope that we can change the way this injury is managed. The Rotation Medical implant is making a difference in these patients' lives."
The Bioinductive Implant, manufactured by Rotation Medical, is suitable for most rotator cuff disease, from small partial-thickness tears to massive full-thickness tears. The Bioinductive Implant is derived from bovine Achilles tendon and gradually absorbs within six months, leaving a layer of new tendon-like tissue to biologically augment the existing tendon. This treatment can be used for both previously treated and untreated patients. Introduced to the market in 2014, the technology has been used in thousands of rotator cuff procedures in the U.S.
A surgeon locator on Rotation Medical's website shows surgeons in the area that treat patients using the Rotation Medical Bioinductive Implant: http://rotationmedical.com/surgeon-locator/. More information about Rotation Medical can be found at http://www.rotationmedical.com.
About Dr. Jarrod Smith
Jarrod R. Smith, MD is an orthopedic surgeon specializing in sports medicine. He is a native of South Point, Ohio. While at South Point High School, he was named All-Ohio in two different sports and graduated valedictorian of his class. In college, he was a member of the 2001 National Champion football team at Georgetown College. Dr. Smith then transferred to the University of Tennessee, where he was coached by Phillip Fulmer.
Dr. Smith is a 2010 graduate of the Marshall University Joan C. Edwards School of Medicine. He is a member of the prestigious Alpha Omega Alpha Honor Medical Society. He completed his orthopedic surgery residency at the University of Tennessee College of Medicine in Chattanooga, Tennessee. While in residency, Dr. Smith scored in the 99th percentile on his in-training exam. He also presented his research at local, regional, and national meetings. Additionally, he has co-authored multiple textbook chapters and peer-reviewed journal articles.
Dr. Smith completed a sports medicine fellowship at The Andrews Institute in Gulf Breeze, FL. Dr. Smith worked side-by-side with Dr. James R. Andrews, famed orthopedic surgeon and sports medicine specialist. During his fellowship, Dr. Smith cared for athletes from all walks of life, including professional athletes.
He currently practices in Ashland, KY at Smith Orthopedics & Sports Medicine and Our Lady of Bellefonte Hospital.