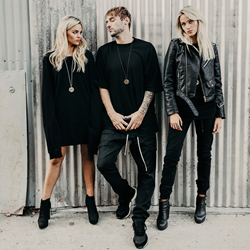 We are thrilled to launch our brand online and finally offer our unique designs beyond our local market
(PRWEB) December 08, 2017
Just in time for the holidays, Timelapse Co., an artisan jewelry company based out of Downtown Los Angeles, recently launched their e-commerce website at the end of October. The company, which prides itself on being a handcrafted brand that focuses on its use of traditional techniques, creates conversation-starting jewelry designs that focalize watch movements dating as far back as before the American Civil War.
"We are thrilled to launch our brand online and finally offer our unique designs beyond our local market", says Co-Founder and CEO of Timelapse Co., Mike Westerband. "We started this project out of our passions for our crafts and design, and since then the community response has been phenomenal. We're so grateful for the strong support we've received thus far and the whole team is incredibly excited to bring our creations to the wider world."
Timelapse Co. has been producing one-of-a-kind jewelry designs since 2015. With a focus on bridging the gap between the stories behind antique watch movements and modern popular aesthetics, the company's designs are worn by people worldwide. The brand has been exceedingly popular amongst the house and techno electronic music crowd, as evidenced by their Instagram account featuring notable DJs and producers wearing their accessories, such as Audiofly, Art Department, and Washington D.C.-based Thievery Corporation.
Jack Clark II, Co-Founder and Creative Director, heads product manufacturing for the jewelry lines. Trained by a former Master Jeweler for Cartier and Tiffany & Co., he had this to say, "Our jewelry tells a story, from where the watch was made to what was going on in the world at that time. Nearly all of our pieces feature movements that have traveled around earth for at least a few decades, and sometimes over a century, to finally find its way around your neck or onto your finger. The techniques they used back then were vastly different than the modern machinery available to us today. The history of the designs and engineering is really cool to think about every time you look at one of the pieces."
To learn more about the company and their designs, contact Mike Westerband at 1(323)685-7598 or email, mike@timelapseco.com.
About Timelapse Co.
Timelapse Co. is a Downtown Los Angeles-based fashion accessories designer and manufacturer. Their designs focus on melding antique watch movements with modern aesthetics and are worn by top international DJs and music producers. The design of watch movements has an extensive history dating back to the 16th century. Timelapse Co. brings the same historical appreciation for artistic qualities and geometric precision that original watchmakers had into modern focus.
For more information about Timelapse Co., please visit https://www.timelapseco.com/