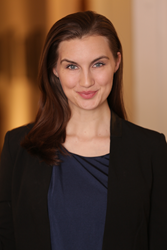 her incredible management and professional capabilities will invaluably serve Viora and continue to push the company to new heights
(PRWEB) December 10, 2017
Viora, a leading medical aesthetics solutions provider, today announces the appointment of Mrs. Andrea Trofimuk as Chief Executive Officer of Viora Inc. Mrs. Trofimuk will take on full responsibility for all activities and operations of Viora Inc. in the United States of America and continue to drive consistent growth and expansion that the company has seen in recent years.
"Andrea has displayed incredible devotion and loyalty to Viora, and consistently demonstrated exceptional leadership, integrity, commitment, and professionalism," said Eliran Almog, CEO, Viora Inc. "I am excited to see where Andrea will lead the company in the future and we have full confidence and belief in her talents and abilities to continue leading Viora."
"On behalf of the board and all of our employees, I would like to personally congratulate Andrea on the appointment of her new position," commented Josef Ran, Chairman of the Board. "I am positive that her incredible management and professional capabilities will invaluably serve Viora and continue to push the company to new heights."
Mrs. Trofimuk has been in Viora for over 8 years in a range of positions, and her deep understanding of the medical aesthetic industry a will bring immense value to the new appointment.
About Viora
Viora is a market-leading aesthetic solutions provider for skincare applications for patients seeking the most advanced developments for the most requested treatments: rejuvenation, resurfacing, body & facial contouring, cellulite reduction, acne control, lightening, hydration, hair removal, exfoliation and more. Viora's expertise in developing solutions and technology for these applications ensures greater physician and client satisfaction. Viora's extensive knowledge and experience is forged from its expansive and deep connections to the aesthetic community and has allowed Viora to create the most sought after solutions, and achieve the most effective results. For more information, visit http://www.vioramed.com.