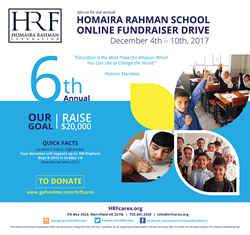 MERRIFIELD, Va. (PRWEB) December 04, 2017
The Homaira Rahman Foundation (HRF), a Northern Virginia-based non-profit charitable organization will host its 6th Annual Online Fundraiser on GoFundMe (https://www.gofundme.com/HRFcares) from December 4-10, 2017. This year's goal is to raise $20,000 for the continued operation of their signature effort – the Homaira Rahman School in Kabul, Afghanistan.
In 2013, HRF opened this first school for orphans and disadvantaged Afghan children to establish an enduring and sustainable approach to providing educational opportunity. The Foundation's President, Roya Rahman commented, "We began with 50 orphaned children – boys and girls – in grades 1-4, and steadily increased enrollment each year, adding two more grade levels, bringing the total student population to just over 100 in 2015. The Homaira Rahman School is now a fully functioning primary school, run jointly by HRF and The Orphans and Widows Association."
HRF is an all-volunteer, 501-c3 non-profit organization established in 2009 committed to empowering Afghanistan's orphans through education. HRF believes an orphan's struggles reflect those of Afghan society and that a renewed focus on education will break the intergenerational chains of poverty and allow people to live empowered lives. To make such opportunities accessible to Afghan orphans, HRF partners with local and international NGOs in creating impact projects and provide financial assistance, technical assistance and support to grass roots groups and dedicated individuals whose goals are aligned with theirs.
For more information on the foundation please visit:
· https://www.facebook.com/HomairaRahmanFoundation/
· https://twitter.com/hrfcares
· Instagram: @hrfcares