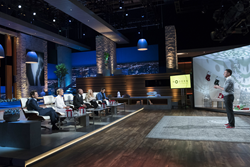 The Modern Christmas Tree is bound to be a new holiday tradition for families far and wide.
NEW YORK (PRWEB) December 11, 2017
Modern Christmas Trees® founder Matt Bliss landed a deal on ABC's hit show Shark Tank with Barbara Corcoran on Sunday, December 3, 2017 at 9PM EST. 
"Matt has an unmatched passion for his business and the holidays – I couldn't pass up the opportunity to work with him. The Modern Christmas Tree is bound to be a new holiday tradition for families far and wide," said Corcoran.
Bliss presented to Corcoran, Mark Cuban, Lori Greiner, Robert Herjavec, and Kevin O' Leary his new spin on the traditional holiday tree. Modern Christmas Trees® eliminate the hassle of pine needles from a real tree and the bulky assembly and storage of artificial trees.
"The Shark Tank experience was amazing! I'm so happy to share my Grandpa's story on such a large, global stage," Bliss says. "It's truly a blessing that Barbara saw the vision too, and we reached a deal."
Bliss' patented product collapses and stores flat and illuminates a room with its LED light that casts shadows off the concentric rings of the tree. The tree's design originally comes from Bliss' engineer and architect grandfather Lawrence "Bud" Stoecker who created the tree for his family in the 1960's.
Since its release to the world, Modern Christmas Trees have been displayed on every continent, in homes and businesses from Disneyland, Google, Red Bull, Renaissance Hotels, Four Seasons, and many more.
Each Modern Christmas Tree is constructed of durable and lightweight acrylic. The tree is offered in five color choices (Red, Green, Clear, White, and Blue) and available in three different sizes (7.5', a Wall tree, and a Table top tree). Tree add ons include ornaments, crystals, a rotating mirror ball, a tree stand, skirt, Sputnik tree topper, and storage cases. In addition, the tree is sold undecorated for $399, and allows customers to display family ornament collections.
About Shark Tank
"Shark Tank," the critically acclaimed and multi-Emmy® Award-winning reality show that has reinvigorated entrepreneurship in America, returns to The ABC Television Network this fall for its ninth season. The business-themed show that has become a culturally defining series and inspires a nation to dream bigger, recently amassed an amazing $100 million in deals in the Tank.
About Barbara Corcoran
Barbara Corcoran's credentials include straight D's in high school and college and twenty jobs by the time she turned twenty-three. It was her next job that would make her one of the most successful entrepreneurs in the country when she took a $1000 loan to start The Corcoran Group.
As one of the "Sharks" on ABC's hit TV show, SHARK TANK, Barbara has ponied up her own money and invested in twenty-two businesses, competing to make those deals for all to see, then shepherding them to success.
Barbara is famously brash and blunt, bold and courageous, and a brilliant identifier of opportunity and talent (often invisible to others).