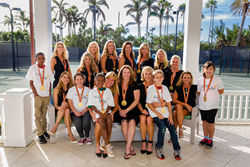 PALM BEACH, Fla. (PRWEB) December 14, 2017
The Palm Beach Winter Games will be held January 12 -15, 2018 in Palm Beach, Florida. This inaugural event, benefiting the children's charity First Serve of Palm Beach County, will feature a weekend of sports and entertainment activities in the spirit, cooperation and sportsmanship of the Olympic Games.
The FITTEAM First Serve Sports Night Gala will be held on Saturday, January 13, 2018 at City Soccer Indoor Sports complex and will be the first of its kind for Palm Beach. This is definitely not your grandparent's gala (although they're also invited!). The space will be transformed into a sports playground where guests will experience hands-on activities including table tennis, basketball, soccer skills, billiards, hole-in-one golf, Twister, softball batting cage, bocce and more.
While playing, experience gourmet food prepared by some of Palm Beach's finest restaurants while sipping custom cocktails and beverages from a number of specialty themed beverage bars. Finish the night dancing to live music with our celebrity DJs at the Margaritaville Winter Games nightclub and pose with athletes and Olympians and sports legends on the medal podium.
The FITTEAM Pro-Am Doubles Tennis Tournament of the Palm Beach Winter Games is an event where touring, legend and tour professionals will be paired with amateur partners in a multi-round doubles tournament.
Chaired by former Wimbledon champion, John Lloyd, the FITTEAM Pro-Am Doubles Tennis Tournament will also feature two-time Australian Open singles champion Johan Kriek along with several more male and female top-ranked touring professionals. The two-day format will utilize eight private tennis courts on the north end of Palm Beach on Saturday, January 13th and will then culminate with the finals in all divisions on Sunday, January 14th at The Breakers Palm Beach tennis facility.
The Breakers Palm Beach will host the Palm Beach Winter Games Tennis Fashion Show & Luncheon on Sunday, January 14, 2018 chaired by Lisa Thompson. The luncheon will feature a specially selected menu from the Breakers catering team including specially crafted beverages and cocktails and will feature local residents and tennis players as models.
The event will include local Palm Beach stores, services, and vendors including Jo Malone, India Hicks and Kendra Scott as well as national fashion and consumer brand exhibits. The fashion show will include brands from The Breakers including Lululemon, Fila, Sofibella, and others. We will also feature a special showing of Venus William's Eleven brand.
The Sports Celebrity Charity Golf Tournament of the Palm Beach Winter Games is an event where Olympians, sports figures, and celebrities will be paired with amateur partners in a scramble-format, shotgun start golf tournament on Monday, January 15 at the Breakers Palm Beach Resort's Ocean Golf Course, Florida's oldest golf course.
The Palm Beach Winter Games is proud to have the support of major sponsors HBO, Margaritaville and FITTTEAM.
First Serve (http://www.firstserveusa.org) is a not-for-profit organization that supports and inspires at-risk children to realize their full potential as healthy and productive members of society. Through sports, education, mentoring and interaction with law enforcement officials, we endeavor to break the cycles of crime and poverty, helping children transcend their circumstances and transform their lives.
For more information about the Palm Beach Winter Games, please visit https://www.palmbeachwintergames.com/ or call (561) 510-0725.