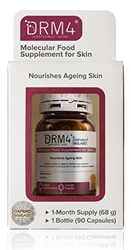 With DRM4®, ageing or tired skin gets a protective boost against harmful UV radiation and free radicals.
OXFORD, United Kingdom (PRWEB) December 05, 2017
Oxford Biolabs, an innovator in natural nutraceutical and cosmeceutical products today announced the introduction of its patent-pending DRM4 Molecular Food Supplement for Skin. By providing the body and skin with the necessary nutrients, this new solution will help tackle unwanted signs of skin ageing, and ageing in general.
The outermost layer of the epidermis, the stratum corneum, is the first line of defence, which makes it vital for healthy skin on the whole. Therefore, the key to shielding the skin from harmful free radicals and toxins is to provide the necessary nutrients that the skin needs to reinforce the natural barrier which protects it against external stressors.
DRM4 works by supporting the skin's natural barrier properties, reinforcing the shield that protects the human body from exposure to damaging external elements like ultraviolet radiation, air pollution, and free radicals. The DRM4® food supplement was specifically formulated to activate, stimulate, and promote healthy skin through powerful antioxidants like vitamins C, E, B2 (riboflavin), and the essential micronutrient selenium.
Dr. Thomas Whitfield, DPhil (Biochemistry), Oxford scientist and founder of Oxford Biolabs said: "With DRM4®, ageing or tired skin gets a protective boost against harmful UV radiation and free radicals."
DRM4 Molecular Food Supplement for Skin is the result of world-leading research and a combination of high quality, naturally-based ingredients. Just three capsules of DRM4® taken per day can contribute to the maintenance of normal skin and the protection of cells from oxidative stress, which may cause premature skin ageing.
DRM4 Molecular Food Supplement for Skin went on presale on October 30, 2017, and since that time has garnered considerable attention and interest. Starting November 30, 2017, the patent-pending supplement is available for immediate shipping.
About Oxford Biolabs
Oxford Biolabs® is a nutraceutical and cosmeceutical company that develops a range of naturally-based products aimed at helping people avoid unwanted signs of ageing, such as hair loss, premature greying, and skin ageing. It was founded by scientists formerly of the University of Oxford under the leadership of Dr. Thomas Whitfield. Since 2009, the company has been pursuing the development and distribution of scientifically tested, drug-free nutraceutical products backed by world-class research.