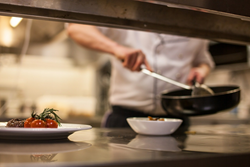 Providing quality training for a safer tomorrow.
(PRWEB) December 06, 2017
More than 5 million foodservice professionals are accredited through the ServSafe® Food Protection Manager Certification Examination. At DVSC, our ServSafe® Food Safety Sanitation and Safety Managers Training and Exam meets the needs of State & Federal food laws and regulations.
New Jersey legislator adopted Chapter 24 of the Retail Food Service & Vending Laws, 2010, requiring all establishments to have a certified person in charge of the operation of these requirements. It sets the standard with comprehensive food safety training and a National Accredited Certification Examination.
There are an abundance of dates available to choose from. Here is a sneak peak at the most upcoming:
January 15th & January 22nd, 2018
February 12th & February 19th, 2018
March 5th & March 12th, 2018
April 9th & April 16th, 2018
Sign up today!