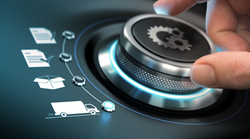 "To be recognized as a leading fulfillment house reinforces our success and company mission to provide reliable service to the entrepreneur and mid-sized business." -Dan Cence, CEO
PLAINVILLE, Mass. (PRWEB) December 05, 2017
Sprocket Express, a local New England fulfillment house, has been selected as a Top 3PL for 2018, included in a listing of leading third-party logistics providers selected by the editors of Multichannel Merchant.
"When I started Sprocket Express, one of my goals was to create local jobs in New England, said Dan Cence, CEO. "To be recognized as a leading fulfillment house reinforces our success and company mission to provide reliable service to the entrepreneur and mid-sized business."
Given the explosion of eCommerce and the increasing number of 3PLs in the marketplace, Multichannel Merchant created this unique database vetting 3PLs that are eCommerce qualified and experienced as a value-added service for its audience. The online resource is a searchable directory for merchants looking for a qualified 3PL provider.
"Many eCommerce and direct-to-customer merchants today are considering an outsourced fulfillment solution because their business growth has outstripped their internal capabilities," said Mike O'Brien, Senior Content Manager of Multichannel Merchant. "That's why we've developed our Top 3PL listing as a valuable resource for them. Each 3PL listed has been selected based on their industry experience, range of capabilities and ability to handle high order flow."
The company profiles in the MCM Top 3PL listing include vital information to help merchants in their selection process, including key capabilities, average annual client order volume, top merchandise categories handled, facility locations and more to help plan a fulfillment transition.
According to Forbes, holiday eCommerce spending in the U.S. alone will exceed $100 billion in 2017. For smaller businesses competing with the large marketplaces, fulfillment capabilities often mean the difference between success and failure. Today's sellers must be prompt, accurate, and ready for large volume. Sprocket Express has found its niche as a local small business itself, still offering that personal touch while keeping pace with today's technology.
About Sprocket Express
Sprocket Express is a New England business with a global reach. Founded in 2005 by Dan Cence, a former Information Technology and Supply Chain executive with Polaroid Corporation, Sprocket Express was designed to support technical innovators from Harvard and MIT with an eCommerce + distribution platform to help them commercialize their start-ups. Today, Sprocket partners with small and mid-sized business from all online marketplaces and shopping carts to provide a full range of accurate and dependable fulfillment services. Combining the best of high-tech fulfillment with personal service… "Real people, no tickets!"
About Multichannel Merchant
Multichannel Merchant reaches key decision makers responsible for eCommerce, management, marketing and operations at companies that sell merchandise through multiple channels — including eCommerce, mobile, social, and catalog. Multichannel Merchant delivers original research, as well as in-depth analysis of trends and best practices, news, tactical/how-to, executive summaries, technology and supplier comparisons, tip sheets and resource information to help companies sell & deliver products wherever and whenever the customer wants them – at home, work, store or other locations.