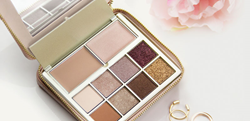 PORTLAND, Ore. (PRWEB) December 05, 2017
b-glowing is pleased to announce the official launch of b-glowing BEAUTY™ and its debut product, The Illuminate + Shine™ Palette. As women age, they're fed a lot of "rules" about how they can and cannot wear their makeup. b-glowing BEAUTY was born with a big mission, to break and say 'buh-bye' to those outdated rules. b-glowing BEAUTY creates products for mature women that celebrate their journey. b-glowing BEAUTY™ is not about fixing flaws—it's about finding what works for you, highlighting—not hiding—your unique beauty, and letting yourself GLOW.
b-glowing BEAUTY is thrilled to announce the launch and immediate availability of its debut product, the Illuminate + Shine™ palette. This rule-breaking, Age Embracing™ palette is filled with a brightening primer, highlighter, and eight pigment-packed shadows that brighten, blur, illuminate, smooth fine lines, and nourish skin. From its innovative ingredients to the complementary colors that can be worn alone or layered, everything is designed with aging skin in mind to brighten, lift and enhance eyes and improve the health of your skin. All b-glowing BEAUTY formulas are infused with MicroVector Plump GABA-HYA—a moisture-rich blend of collagen, hyaluronic acid, and other ingredients that help plump, hydrate and smooth the skin.
"Having founded b-glowing.com 13 years ago I've been able to try every new trend, product, and innovation out there. When I realized the needs of women 35+ were not being addressed in the color cosmetic market, I set out to change this, said Lisa King, founder of b-glowing BEAUTY. "I'm thrilled to announce the launch of b-glowing BEAUTY and help women celebrate and highlight their unique beauty and get their glow back."
Just in time for the holiday season, The Illuminate + Shine™ Palette is availability beginning immediately for $58.00 at b-glowingbeauty.com. What's more, the Illuminate & Shine Palette features a travel-friendly reusable clutch. Done with the shadows? Pop out the pan, and you're left with gorgeous, zippered clutch. Talk about a win-win!
Clean Beauty: All b-glowing formulas are clean, non-toxic, and free from harmful chemicals and additives.
About b-glowing BEAUTY™
At b-glowing BEAUTY™ we create products for mature women that celebrate our journey. Products that highlight—not hide—our unique beauty. For additional information please visit: http://www.b-glowingbeauty.com
About b-glowing.com
Curating Beauty Since 2004. Now in its 13th year, b-glowing.com features more than 200 brands and has been recognized industrywide for its extraordinary collection of hard-to-find niche beauty products alongside some of the world's most coveted beauty brands. The company's success is due in part to Lisa King's discriminating buying taste and ability to discover progressive brands for her loyal customers. The b-glowing.com shopping experience includes large product images, easy search and navigation, a knowledgeable Beauty Concierge, personalized recommendations by skin type, brand exclusives, worldwide shipping, free domestic shipping on orders $75+, hassle-free returns, and three free luxury samples with each order. For additional information, please visit https://www.b-glowing.com
MEDIA CONTACT:
Kendra Boccelli | Boccelli & Co. PR for b-glowing | m: 1.617.645.3205 | Kendra(at)boccellipr(dot)com