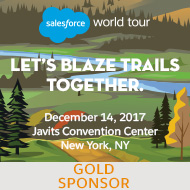 "Our team is excited to demo at the New York World Tour this week and demo how sales and support teams are saving over 25% of their time, up to 3 months a year time savings, by automating appointment scheduling."
ATLANTA (PRWEB) December 12, 2017
SUMO Scheduler, the #1 native scheduling solution on Salesforce®, the world's leading Customer Relationship Management (CRM) platform, will be a gold sponsor at the Salesforce World Tour 2017 in New York City on December 14th at the Javits Center.
SUMO is the only solution that is built 100% native on the Salesforce platform, which sets the application apart from other scheduling tools. By integrating seamlessly with Salesforce, SUMO is helping enterprise customers increase revenue, productivity, and C-SAT while reducing no-shows and time spent managing appointments and calendars.
The Salesforce World Tour is a global roadshow where companies learn how Salesforce's Customer Success Platform can help them to connect to all their applications, devices, and customer's data in a cloud, social and mobile world.
CEO Jason North said, "Our team is excited to demo at the New York World Tour this week and demo how sales and support teams are saving over 25% of their time, up to 3 months a year time savings, by automating appointment scheduling."
Salesforce World Tour attendees will be able to see SUMO's cloud-based platform in action through on-demand demos at booth #127 in the Customer Success Expo. Attendees that take a tour of SUMO during the show will also be entered into a drawing for a Google Home, this season's top-selling smart speaker and home assistant from Google.
ABOUT SUMO SCHEDULER
SUMO Scheduler is the #1 online appointment scheduling solution built 100% native on Salesforce®. SUMO is built for the enterprise and trusted by industry leaders. Our clients understand how manually scheduling appointments is a waste of time and resources, ripe for human error, a source of lost revenue, and customer attrition. By completely automating appointment scheduling 24/7 365, on any device, SUMO has helped organizations increase appointment volume, revenue, and customer satisfaction. As the only solution built 100% native on Salesforce, SUMO meets the security, scalability, and compliance needs of enterprise organizations. SUMO does the heavy lifting of appointment scheduling. For more information, visit http://www.sumoscheduler.com. For updates, join us on LinkedIn, follow us on Twitter and Facebook, and visit our blog.