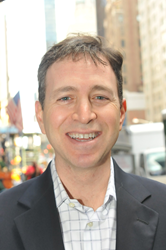 "We are grateful and excited to leverage Joe's expertise into our thought leadership work," Julia McNamara, CEO of CoFounderworx
NEW YORK (PRWEB) December 05, 2017
Mr Joe Covey, CEO of Interactivation, has joined the Executive Panel of CoFounderworx, a science-driven assessment company designed only for CoFounders and Solo Entrepreneurs.
Joe Covey has been an entrepreneur and investor since 1992. He spent 12 years running VC-backed businesses and then started acquiring companies with business partner, Matthew Davidge. Joe has acquired five companies since 2008 including the Wellness Network hospital TV channels (bought from NBC) and the Mag Rack TV network (bought from Cablevision).
Joe is a mentor to New York City entrepreneurs through DreamitVentures. He supports several nonprofits including Bideawee animal shelters, Jazz Foundation of America, and WhyHunger. Joe has a B.A. in Economics from the University of Pennsylvania and an M.B.A. from New York University's Stern School of Business.
CoFounderworx helps CoFounders, Investors and Accelerators Optimize for Increased Revenue, Better Diligence, Faster Growth. 67% of startups fail because of team conflict.
The CFWXMatch is the only proven science-based program to help you determine whether you are a solo entrepreneur or a CoFounder. This assessment also matches CoFounders based on level of compatibility. The CFWX Match to predict conflict, team compatibility, success and failure. With our outcomes you can put strategies in place before conflict and inefficiency arise.