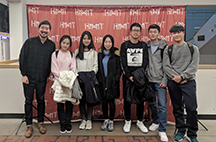 You really can't simulate the buzz and excitement of a tournament like this–especially one hosted on Harvard's campus
Lexington, MA (PRWEB) December 06, 2017
On November 11th, 2017, the Lexington Christian Academy (Lexington, MA) Math Team traveled to Cambridge, Massachusetts to join top teams from around the world for the semi-annual Harvard-MIT Mathematics Tournament (HMMT). A mainstay in the competitive math circuit since its inception in 1998, the competition historically attracts the most elite high school math programs from around the country and across the globe. Chinese-English translation services are even provided on-site for teams traveling from China, many of whom attend secondary schools affiliated with local universities in Beijing, Shanghai, and Shenzhen.
After an award-winning debut year in the local math team circuit, where Lexington Christian Academy placed first in the Massachusetts Math League and second in New England in the "Small Schools" division, Coach Max Xu and student Captain Tim (Dingyi) Zhou '19 were excited to learn of the existence of the HMMT. "I knew that the tournament would really challenge my students and push them out of their comfort zone, as well as provide valuable real-world practice for the American Mathematics Competition," said Coach Xu. "You really can't simulate the buzz and excitement of a tournament like this–especially one hosted on Harvard's campus."
Excitedly, in the second of two individual rounds, LCA student Allen (Haihan) Gao '20 placed 34th out of nearly 800 students, soldiering through a grueling set of ten related questions in topics that included algebra, geometry, and combinatorics. Later in the morning, displaying excellent communication and team chemistry, LCA placed 12th in Team Round out of 142 teams, securing an overall placement of 50th in the tournament.
Though ineligible to compete in the February HMMT tournament, the team from LCA is determined to continue to improve and to make a repeat appearance at the state championships to defend their title in 2018. "This is only our first year at HMMT and we have learned a lot. We still have many years ahead to improve," reflected Captain Zhou '19. "This was just the beginning." With the American Regional Mathematics League (ARML) and New England Tournament still on the horizon, there will certainly be more to come.
Lexington Christian Academy is an independent college preparatory school that exists to educate young men and women in the arts and sciences in the context of a complete commitment to the gospel of Jesus Christ.