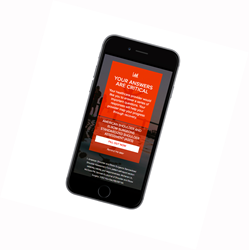 WALNUT CREEK, Calif. (PRWEB) December 05, 2017
Trainer Rx, a leader in musculoskeletal mhealth solutions, has announced the creation of a pilot program with One Call Care Management, the nation's leading provider of workers' compensation care management services. The pilot program, which focuses on improving employees' recovery time from injuries or surgery using a home-based platform, was recently announced at the National Workers Compensation Meeting in Las Vegas at the Mandalay Bay Convention Center, December 5-7.
By pairing One Call's nationwide outcomes-based outpatient therapy network with Trainer Rx's platform, One Call and Trainer Rx are able to deliver an improved experience for workers' compensation patients. The Trainer Rx programs, designed as patient journeys, provide access to content while optimizing care coordination and outcome management.
"As a physical therapist dedicated to injured worker rehabilitation, I have found that individuals who fully participate in their home exercise program achieve better outcomes than those who do not," said Michelle Despres, One Call's Vice President and National Product Leader. "Both One Call and Trainer Rx seek to provide innovative and technology driven tools to support injured workers and physical therapists while driving quality evidence-based care."
Market Statistics and Opioid Management:

The Occupational Safety and Health Administration (OSHA) estimates that work-related musculoskeletal disorders in the U.S. account for over 600,000 injuries and illnesses each year (34 percent of all lost workdays reported to the Bureau of Labor Statistics (BLS).(1)
OSHA estimates, on average, that managing workers' compensation patients with musculoskeletal disorders generates direct costs of $20 billion a year and up to five times that much for indirect costs.(2)
Two studies from the independent Workers' Compensation Research Institute (WCRI) show 75 percent of injured workers are prescribed opioids but don't receive opioid management services [urine testing drug testing, psychological and psychiatric evaluation, and physical therapy and exercises]. They also found that 55-85 percent of injured workers who missed seven days or more of work received at least one opioid prescription.(3)
A Washington State study found that pain medication was prescribed to approximately 32 percent of patients in stronger potencies and larger doses for musculoskeletal injuries. Studies have shown opioids have a higher medical cost than physical therapy and limited impact in treating injuries.(4)
"Non-pharmacologic therapy and non-opioid pharmacologic therapy are preferred for chronic pain, " according to the CDC.(5)
Considering the direct impact of skillfully managing workers' compensation patients, it is important to ensure appropriate options are provided at the right time to support the goal of returning to work.
"Anyone who suffers from a debilitating injury deserves positive outcomes," said Michael Oberlander, M.D., CMO and Co-founder of Trainer Rx. "Treating injured workers can be a complex process. Our partnership with One Call allows patients unlimited access to Trainer Rx's research-developed pathways that take them from injury to full recovery. With Trainer Rx, there is a much greater likelihood that patients will stick with the rehabilitation program and achieve better results."
Trainer Rx will be part of the One Call exhibit at the National Workers Compensation Meeting in Las Vegas. Booth #3101.
ABOUT ONE CALL
One Call is the nation's leading provider of specialized solutions to the workers' compensation industry and is headquartered in Jacksonville, Florida. One Call's solutions enable more efficient and cost-effective claims resolution with a focus on the injured workers' needs across the continuum of care. For more information, visit http://www.onecallcm.com or follow One Call on Twitter @onecallcm.
ABOUT TRAINER RX
Outcomes Focused. Evidenced Based. Consumer-Centric. Since 2014, Trainer Rx has excelled as a leading innovator in musculoskeletal mhealth solutions. The platform is designed to aid in the prevention and recovery of orthopaedic injury and surgery. Patients have completed more than 500,000 rehab sessions, enabling providers and health systems to review patient-reported outcomes measures and risk manage patients to recovery. The combination of in-clinic and home-based rehabilitation content and educational material improves education of injury and treatment options. The completely customizable platform optimizes cost-efficient, high quality, and accessible healthcare.
Patients on average use Trainer Rx for 91 days [26 sessions]. The product boasts an 87% Net Promoter Score. Visit http://www.trainerrx.com.
REFERENCES:
1. http://www.osha.gov/pls/oshaweb/owadisp.show_document?p_table=UNIFIED_AGENDA&p_id=4481
2. https://www.osha.gov/pls/oshaweb/owadisp.show_document?p_table=UNIFIED_AGENDA&p_id=4481
3. Thumula, V. and Wang, D., "Interstate Variations in Use of Narcotics" (2nd ed.) and "Longer-Term Use of Opioids" (2nd ed.),
4. Dembe A, Wickizer T, Sieck C, et al. Opioid use and dosing in the workers' compensation setting. A comparative review and new data from Ohio. Am J Ind Med 2012;55(4):313–24.
5. http://www.apta.org/PTinMotion/News/2016/3/16/CDCFinalOpioidGuidelines/