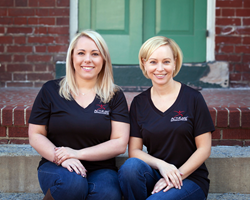 "We saw the opportunity to positively impact so many people's lives by providing compassionate caregivers to go into the homes and care for those who need it. As the owners of Acti-Kare of Fredericksburg, we are happy to provide our community with extraordinary care!"
FREDERICKSBURG, Va. (PRWEB) December 05, 2017
Leading In-Home Senior Care provider joins the Fredericksburg community!
Acti-Kare of Fredericksburg is locally co-owned by Rebecca Thompson, of Spotsylvania, and Dori Roberts, of Stafford. Together, they bring a passion of caring for loved ones and years of experience in senior programming, children's services, and business management.
Providing valuable care to seniors is not a new venture for the two local franchise owners. They have years of industry experience facilitating various senior care initiatives.
Rebecca Thompson holds a Bachelor of Science degree in Recreation, Parks, Tourism, and Special Event Management. While Rebecca attended college, she volunteered in the Alzheimer's sector of an assisted living facility, raised money through philanthropic work to benefit Alzheimer's Research, and hosted special events specifically for senior citizens. After graduation, Rebecca truly found her love of working with Seniors during her employment in a Senior Citizen Division creating and facilitating new programs and classes for those aged 55 and up.
Dori Roberts holds both a Bachelor and a Master of Science degree in Education and has taught in the public school system. She is also the founder of a successful educational services company with locations world-wide. Her blooming career, similar to Rebecca's, is quite philanthropic. Dori also created a non-profit organization bringing STEM education to at-risk students nationwide. She cares for her two children and her mother, who has Parkinson's disease. While it was her children who inspired her to start her education company, it has been her mother who has inspired her to start a business in senior care. She knows first-hand the importance of caring for loved ones.
After much thought, Dori and Rebecca's philanthropic and business experience collided, which allowed them to open an Acti-Kare In-Home Senior Care franchise in their city. "We saw the opportunity to positively impact so many people's lives by providing compassionate caregivers to go into the homes and care for those who need it. As the owners of Acti-Kare of Fredericksburg, we are happy to provide our community with extraordinary care!"