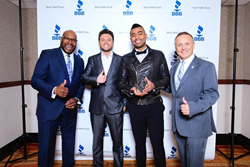 We work hard and it's humbling when people notice it
CHICAGO (PRWEB) December 05, 2017
Receiving a Torch Award from the Better Business Bureau is an honor to select businesses. The Better Business Bureau (BBB) Torch Award honors businesses that have been "Doing It Right – Ethically." Aloha Construction, Inc. is pleased to announce that it has received a 2017 Torch Award for Marketplace Ethics.
"Companies receiving the Torch Award have distinguished themselves as businesses that operate in an ethical manner," says Steve J. Bernas, president & CEO of the Better Business Bureau serving Chicago and Northern Illinois. "They know the importance of their customers, employees, community members and other stakeholders to their business' success. This is at the heart of why the BBB conducts the Torch Award program. We want to encourage businesses to do their best because it benefits everyone."
Local roofers and siding contractors Aloha Construction, Inc. won the 2017 Torch Award For Marketplace Ethics for their charitable work in the field and their forward thinking company culture. A panel of 15 independent judges highlighted their partnership with Omni Youth services which includes their all-expense paid Christmas shopping spree for children in need, their work sending a child with Congenital Heart Disease and 12 of his friends to their first Bulls Game, their efforts with the Bloomington, Illinois Boy's and Girl's Club, and their generous internal employee incentive programs as only a few of the reasons Aloha Construction, Inc. received the award.
The award was presented at a luncheon ceremony on Thursday, November 16th at the Chicago Marriott O'Hare.
"We are proud to win this prestigious award," says David Farbaky, President & CEO of Aloha Construction, Inc. "While we don't set out to do any of these deeds to receive acknowledgement, it feels good to be recognized. We work hard and it's humbling when people notice it. The Torch Award is another way we can show our customers the dedication we have to them."
Aloha Construction has been open for decades offering Illinois consumers the best in roofing, siding replacement, and gutters. "Our desire is to stay focused on what we do best; provide outstanding products and unsurpassed customer service," said Farbaky.
For more information, stay tuned to Aloha Construction's website.
ABOUT ALOHA CONSTRUCTION, INC.
Aloha Construction, Inc. is a family-owned company of bonded and insured General Contractors providing services for all of Illinois and Southern Wisconsin. They proudly assist those in Lake, McHenry, Cook, and DuPage counties via their Lake Zurich location and in the McClean, Peoria, Washington, Tazewell, and Champaign Counties via their Bloomington office.
With over 20,000 completed projects in Gurnee, Grayslake, Round Lake, Lake Villa, Mundelein, Lake Zurich, Round Lake Beach, Vernon Hills, Libertyville, Lindenhurst, Palatine, Wauconda, Hoffman Estates, Bloomington, Normal, Peoria, Washington, Pekin, Morton, and Mahomet; they've got the Midwest covered.
To learn more about Aloha Construction, please visit their new website alohaconstructioninc.net. Call 847 540 7711 for a free expert roof inspection.
Being roofers who finance, Aloha Construction, Inc. is fully licensed and insured and offers a 10 year craftsmanship warranty.