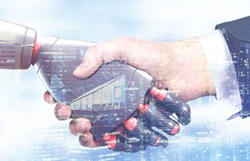 AI will power 85% of customer service interactions by 2020. "The Customer Experience in 2020," Gartner.
Las Vegas, NV (PRWEB) December 06, 2017
Today ServisBOT, the Customer Service AI company, announced the launch of their new AI-driven messaging and bot platform at the AWS re:Invent Global Partner Summit. ServisBOT has been in stealth mode for the last 18 months working on a new and innovative solution for delivering AI-enhanced customer service solutions for the new digital era that has companies reinventing and transforming themselves.
"Customer service is one of the few areas that hasn't really felt the impact of digital transformation and is still very much reliant on voice technology from the last decade. Consumer habits have changed enormously in the last decade and we live in a fast-paced mobile and messaging centric world. No one has time to wait on hold for a customer service advisor and having to do so only generates negative sentiments towards the company. To stay competitive, customer service organizations will have to embrace new channels to connect with their customers and leverage technology such as AI and automation to deliver a more accessible and engaging service that meets consumers needs," explained Cathal McGloin, CEO of ServisBOT.
ServisBOT offers a SaaS platform that helps transform customer service conversations by using messaging technology to make it easy for customers to connect, an artificial intelligence engine to power virtual assistants and an automation platform that manages an army of BOTs to respond to customers' request. The hosted service runs on Amazon's AWS platform and easily integrates with existing contact center technology and IT ticketing systems such as Salesforce Service Cloud, ServiceNow and Zendesk.
ServisBOT is a member of the AWS Partner Network and has successfully integrated with the new Amazon Connect service which provides a contact center voice solution in the cloud. Together, Amazon Connect and ServisBOT offer a multi-channel solution for customer service covering messaging and voice across web, mobile, social, phone and even new digital assistant devices like Amazon Alexa and Google Home. Amazon Connect helps drive down the operational costs of voice technology in contact centers while ServisBOT complements by driving down operational costs of staffing by automating the most common tasks and requests, leveraging Customer Service AI, and improves satisfaction by increasing availability and accuracy for customers requiring service.
Learn more at http://www.servisbot.com
AWS Connect & ServisBOT, Tell me More