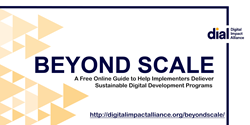 WASHINGTON, D.C. (PRWEB) December 04, 2017
Today, the Digital Impact Alliance (DIAL) launched Beyond Scale: How to make your digital development program sustainable, a free online guide for non-governmental organizations (NGOs) that details key challenges and potential solutions when scaling and sustaining digital development programs beyond the 'valley of death' – the problematic phase many digital development implementers face when the pilot is over and funding may be running out.
The Digital Impact Alliance partnered with BBC Media Action and Esoko, both implementers of long-term, large-scale digital development programs, to share their learning and experiences on what works – and just as importantly – what does not. DIAL also partnered with Vital Wave and Johns Hopkins University Global mHealth Initiative to source digital development emerging best practices from around the world.
Between 2009 and 2015, the number of public and private sector programs testing digital technology solutions for systemic development challenges in agriculture, education, financial services and health more than tripled. As investment in digital development has grown, so has the need to ensure cost effectiveness, scale and financial sustainability.
However, few digital solutions in global development have successfully sustained beyond the pilot stage to institutionalize impactful change. Many continue to face key barriers that impede growth in areas outside of digital technology expertise, such as sustainable business models and private or public-sector partnerships, regulatory and policy compliance, and the challenges of large-scale marketing, distribution and sales operations.
"As organizations around the globe work to take digital development programs beyond the pilot phase, a unique opportunity exists to draw on their experience, knowledge and key insights to provide pragmatic how-to guidance for maturing digital solutions and programs," said Kate Wilson, CEO of the Digital Impact Alliance. "Through the extensive research and production process, we were able to source helpful best practices and guidance. We are excited to unveil a product that directly helps on-the-ground implementers in digital development organizations."
Many informative guides have been published about how to approach the design of a new digital solution, but there is little advice available to NGOs that have already piloted solutions and are now at the four-to-five year mark in their programs, trying to figure out how to deliver sustained impact with less reliance on donor dollars.
Beyond Scale aims to fill knowledge gaps on how to create sustainable digital development programs. The guide consists of seven modules, each on a different 'make or break' topic:

Strategy
Business Model
Legal, Policy and Regulatory
Solution Design
Roll Out
Human Capacity
Partner Relationships
Each module offers a series of key steps brought to life by real-world examples from BBC Media Action, Esoko and a wide range of digital development implementers from around the globe. The examples highlight challenges these organizations have faced when replicating their digital development programs in new geographies, diversifying their products and services, transitioning ownership to a government, throwing out their business model and starting from scratch, or restructuring their organization to reach scale and financial sustainability. Useful tools and templates are included in each module and provide actionable how-to tips to help readers apply learning to their own work.
Beyond Scale also provides contextualized case studies of what has worked and what has not from BBC Media Action and Esoko, which both run digital development programs at scale, and have achieved a significant degree of sustainability.
BBC Media Action, the BBC's international development charity, is delivering free reproductive, maternal, neonatal and child health information directly to the mobile phones of millions of families and free mobile-based training and job aids to hundreds of thousands of grassroots community health workers in partnership with the Government of India. Esoko, a for-profit social enterprise that connects smallholder farmers in Africa to agriculture markets, information and finance through simple mobile and web technologies, shared its practices towards supporting successful scale in its digital deployments. As few digital solutions have achieved this level of longevity and scale, globally, DIAL has invested in sharing their approaches, techniques, and tools with the digital development community.
The Johns Hopkins University Global mHealth Initiative provided industry expertise, technical precision, and rigor to the development of the guide's content. Vital Wave, a professional services firm that provides end-to-end services to scale technology in low-resource environments, worked with DIAL and the partners to lead the research, creation and design of the e-book. Vital Wave's history of working across sectors and industry verticals such as health, finance and education, complements the other partner's expertise, leading to a practical yet robust tool to further enable the scale of digital implementations.
About DIAL
The Digital Impact Alliance (DIAL) aims to realize a more inclusive digital society in emerging markets, in which all women, men and children benefit from life-enhancing, mobile-based digital services. A partnership among USAID, the Bill & Melinda Gates Foundation, the Swedish Government and the United Nations Foundation, DIAL's efforts help accelerate the collective efforts of government, industry and development organizations to realize this vision. http://www.digitalimpactalliance.org.
About BBC Media Action
BBC Media Action is the BBC's international development charity. It uses the power of media and communication to help reduce poverty and support people in understanding their rights. Its aim is to inform, connect and empower people around the world. It works in partnership with broadcasters, governments, non-governmental organizations and donors to share reliable, timely and useful information. It reaches over 200 million people in Africa, Asia, the Middle East and Europe through debate shows, dramas, radio and TV programs, public service announcements, mobile phone services and face-to-face communication.
About Esoko
Esoko started in 2005 as an experiment to see how the emergence of mobile technology in Africa, could improve the lives of rural communities across the continent. Through simple but powerful mobile and web tools and call centers, Esoko has provided market prices, weather alerts and agronomic advice to over 1 million smallholder farmers across Africa and South America. The company has now diversified its services to include data collection and payment solutions for social protection and agricultural programs, under the brand Insyt (http://www.insyt.co). In 2016, Esoko incubated and launched Tulaa (http://www.tulaa.io), a mobile commerce platform for rural consumers and producers, in Ghana and Kenya.
About Johns Hopkins University Global mHealth Initiative
JHU GmI is a University-wide Community of Excellence, connecting faculty, staff and students in interdisciplinary collaborations in the field of digital health, spanning development of and research in mobile and wireless technologies for patient and population health. The mission of JHU GmI is to develop responsive innovations and provide rigorous, evidence-based support for mobile information and communication technologies (ICTs) to improve global health, focusing on resource-limited settings where the burden of disease and mortality are highest. Our focus is on technology that is appropriate and scalable.
About Vital Wave
Vital Wave is an international professional services firm specializing in the design and implementation of large-scale digital solutions in low- and middle-income countries. As strategic investments are made in technology to drive social and economic impact, Vital Wave works with the private sector, development community, and national governments to provide end-to-end services to help these solutions achieve national or international scale. The firm is a recognized leader in the digital-for-development field and takes a private-sector and human-centered design approach to create sustainable digital solutions across industries such as health, finance, agriculture, and education. For more information on the firm's capabilities and services visit http://www.vitalwave.com.