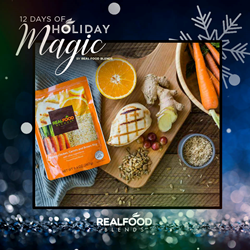 We couldn't do what we do or be where we are without the trust and support of our customers. - Tony Bombacino, Co-Founder, Real Food Blends
CHESTERTON, Ind. (PRWEB) December 05, 2017
Real Food Blends, makers of 100% real food meals for people with feeding tubes, and the company that started a real food revolution in the medical community, is giving back this December with its 12 Days of Holiday Magic campaign. As a way to thank customers and caregivers for their enthusiastic support, the company will be giving away cases of its meals and Visa gift cards every single day for 12 days -- they'll also be donating a percentage of their sales to a different charity related to the tube feeding community each day.
"We couldn't do what we do or be where we are without the trust and support of our customers, who have been very vocal about their belief in the power of real food for people with feeding tubes from the start," said Tony Bombacino, Co-Founder and CMO of Real Food Blends. "Every day we hear from doctors, dietitians, caregivers, and people with feeding tubes who learn about our meals for the first time from one of our current customers. We're honored to have their support and are truly impressed with their support of each other within our Facebook community, so we wanted to do something special this holiday season to give back to those who have given so much to us."
For 12 days in a row, the company will highlight a different customer story within their 82,000+-person Facebook community, with that person receiving a free variety 12-Pack of Real Food Blends meals as a special thank you for sharing their story. One random person from the company's Facebook community will also be chosen to receive a free variety 12-Pack of meals each day. In addition, another random person from the company's Facebook community will be chosen each day to receive a $100 Visa gift card. Beyond these daily random prizes, to support the larger feeding tube community, Real Food Blends will also be donating 5% of its RealFoodBlends.com sales each day to a different charity that supports a condition or disease that is connected to people with feeding tubes. There are so many worthy causes -- Augie's Quest, the Children's Craniofacial Association and the Oral Cancer Foundation are just a few of the amazing charities that will benefit from the 12 Days of Holiday Magic.
"So many of our customers have shared their stories with us over the years, telling us about why they have a feeding tube and how incorporating real food into their tube feeding diet has improved their lives," said Julie Bombacino, Co- Founder and CEO of Real Food Blends. "These stories inspire us every day, and that's why we wanted our customers' voices to be front and center during this special campaign. We hope that this is just another way to show them that we're all on this tube feeding journey together."
Real Food Blends' 12 Days of Holiday Magic campaign starts today, December 5, 2017 and goes through December 16, 2017. More details can be found on the company's Facebook page. To learn more about Real Food Blends meals, which feature 100% real food for people with feeding tubes with no preservatives or corn syrup, visit RealFoodBlends.com.
ABOUT REAL FOOD BLENDS
Real Food Blends makes 100% real food meals for people with feeding tubes. Born from Julie & Tony Bombacino's love for their own tube-fed son and a belief that we all deserve real food and nutritional variety, the meals are free of corn syrup and preservatives, are shelf-stable and covered by many insurance plans. With millions of meals sold, they are available nationwide through DMEs, medical supply and home infusion companies or direct via RealFoodBlends.com and Amazon.com.