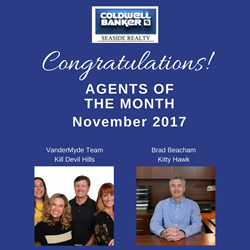 Both Brad and Heather had record breaking months.
KITTY HAWK, N.C. (PRWEB) December 09, 2017
Coldwell Banker Seaside Realty, the top producing real estate firm on North Carolina's Outer Banks* would like to congratulate their Agents of the Month Award recipients for November 2017. The Agent of the Month Award, based on closed sales volume for the month, is presented to the top performing agent in each office. Heather VanderMyde, team leader for the VanderMyde Group is the Agent of the Month for the Kill Devil Hills office and the firm. Brad Beacham is the Agent of the Month for the Kitty Hawk office.
"Currently, we're seeing that buyer profile is a second home buyer who's investing in the lifestyle and not driving their decision on rate of return. Buyers are looking for lifestyle and are much less concerned about rental income. I think buyers are taking money out of a strong stock market and diversifying, or finally feeling confident and secure in the economy. Whatever the reason, the market is hot and buyers are here." says Heather VanderMyde.
"It was a fantastic month and I'm very thankful for all the great people that I have had the opportunity to work with!" says Brad Beacham.
"Both Brad and the Heather VanderMyde Team had record breaking months, as did our firm. In the past our sales have been split evenly between listing and selling sales; however this year the buyer sales have been much stronger. Although inventory is down in our area, it is still a very good time to buy on the Outer Banks!" says Pamela Smith, Vice President.
Coldwell Banker Seaside Realty is the top producing firm on the Outer Banks* with over 25 years of local knowledge and experience. Family owned and operated, the company offers real estate services across the entire Outer Banks as well as all of northeastern North Carolina. Combined with the Coldwell Banker brand, one of the largest and most influential residential real estate brokerage franchises in the world, Seaside Realty offers top-tier real estate services to buyers and sellers throughout the region.
*As reported by the Outer Banks Association of REALTORS 1/01/2017 – 11/30/2017.