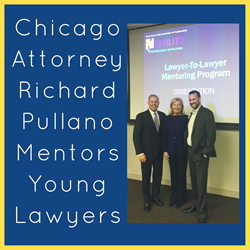 It is important that we share our experiences with the next generation of lawyers, both good and bad, so that they are in the best position to have a positive impact on the profession - Attorney Richard Pullano
CHICAGO (PRWEB) December 05, 2017
Personal injury attorney Richard L. Pullano, founder of Pullano Law Offices in Chicago, shared his professional knowledge with local young attorneys at a Lawyer to Lawyer mentoring orientation program held Nov. 14.
The John Marshall Law School runs the program, which pairs up a mentor and mentee for as much as six hours of professional responsibility Continuing Legal Education (CLE) credits. The program is approved by the Illinois Supreme Court Commission on Professionalism.
"It is important that we share our experiences with the next generation of lawyers, both good and bad, so that they are in the best position to have a positive impact on the profession," Pullano said.
Recently Pullano took a large leadership role when he was installed as the president of the North Suburban Bar Association (NSBA) for 2017-2018. As president, he is in charge of a professional organization that provides networking opportunities, CLE courses, referral services, and community outreach programs.
As a mentor, Pullano can draw upon 35 years of experience practicing law in the Chicago area. In 1982, he earned his Juris Doctor from DePaul University and was admitted into the Illinois State Bar Association. He immediately went to work as a prosecutor in the Cook County State's Attorney's office. In 1987, he changed course and became an attorney for people seeking compensation for personal injuries. He has secured many millions of dollars in verdicts and settlements for his clients over the years.
Pullano plans to use his experience as an attorney and position of leadership with the NSBA to set a professional example for young attorneys to follow.
About Pullano Law Offices:
Pullano Law Offices is a personal injury law firm located on East Wacker Drive in downtown Chicago. The firm is dedicated to helping those who have been injured seek full justice. The attorneys at Pullano Law Offices are prepared to meet with clients any time and place, and they know how to get the best results. The law firm has obtained millions of dollars in settlements and verdicts for clients and has become known for an uncompromising approach and a relentless work ethic.
Attorney Richard L. Pullano and the team at Pullano Law Offices concentrate their practice in helping victims of personal injury. This includes cases involving, but not limited to: trucking liability, aviation liability, medical malpractice, nursing home negligence, construction negligence, and product liability. To learn more about the firm, call 312-551-1100 for a free consultation or fill out our online contact form at http://www.pullanolaw.com/.