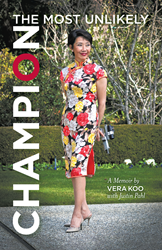 "I hope that people, especially women, will recognize aspects of their lives in mine," said Koo. "When people look at me, they don't think I'm a champion. They don't think I'm anyone. My story is a testament that looks can be deceiving."
SAN FRANCISCO (PRWEB) December 05, 2017
At the age of 70, Vera Koo has accomplished more in life, and at a later age, than she ever thought possible. When most others begin thinking about retirement, Koo was only just getting started as she was on her way to becoming an elite athlete in her late 40s. Emerging from her traditional role as a Chinese-American daughter, wife and mother, Koo's inspirational journey of hope, compassion and forgiveness, as detailed in her new memoir "Vera Koo, The Most Unlikely Champion," will leave readers, especially girls and women, feeling motivated and empowered.
Born in Hong Kong, Koo's family immigrated to San Francisco when she was 12-years-old where her traditional Chinese family raised her to believe women were second to men. Koo followed the path her parents set out for her by getting married, having children and catering to her family as a housewife. However, after experiencing several devastating life events, Koo turned to competitive sport shooting as a distraction and through it, discovered self-confidence that changed the course of her life turning her into an independent, successful, family-oriented business woman and athlete.
With a petite frame that might hide the spirit and determination of a champion to some, Koo says to "search for the thing you are good at," which she found later in life after much perseverance and unflinching focus. As an expert in her sport with countless prestigious titles and achievements, Koo also mentors young athletes as she continues to compete at the highest level.
"I hope that people, especially women, will recognize aspects of their lives in mine," said Koo. "When people look at me, they don't think I'm a champion. They don't think I'm anyone. My story is a testament that looks can be deceiving."
A quintessential American story, "The Most Unlikely Champion," will encourage readers that with hard work, determination and faith in God, they too can accomplish more than they thought possible at any age. To learn more please visit http://www.verakoo.com.
"Vera Koo, The Most Unlikely Champion – A Memoir"
By Vera Koo with Justin Pahl
ISBN: 978-1-5043-8848-1(softcover), 978-1-5043-8848-8(hardcover), 978-1-5043-8848-3(eBook)
Available on Amazon, Barnes & Noble, and VeraKoo.com
About Vera Koo
Vera Koo and her husband, Carlos, reside in San Francisco, have a successful business, and are the proud parents of three children. She has won numerous competitive sport shooting championships including two World titles, and was the first woman to place in the overall top 20. She still competes and will be preparing for her next competition in the new year where she will compete in the regular Women's category, as well as the Senior/Super Senior category, in which she competes against only male competitors.
For general inquires, interview requests & review copies contact:
LAVIDGE – Phoenix
Lauren Dickerson
ldickerson(at)lavidge(dot)com
480-998-2600