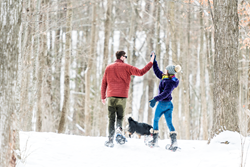 TRAVERSE CITY, Mich. (PRWEB) December 06, 2017
Winter vacation without the big price tag? High fives all around. Michigan's most popular resort community is offering visitors an added incentive to travel there for some winter vacation time in the coming year.
Traverse City Tourism, the town's official destination marketing organization, has announced its 2018 "Traverse City Winter Escape" package. From January 5 until April 30, the package combines special rates at participating hotels and resorts with a wide range of discounts on winter recreation, shopping, dining and entertainment.
"It's true that the busy pace of summer and fall has subsided, but everything people love about Traverse City is still here -- great restaurants, charming downtown shops, wine tastings, and exhilarating outdoor recreation," said Traverse City Tourism President/CEO Trevor Tkach. "And with fewer crowds and off-season pricing, winter is a pretty great time to visit."
Best known as a summer vacation destination, the Traverse City region is winning accolades as a magnet for skiers, snowmobilers and snowshoe hikers who consider this one of the country's most beautiful winter destinations. The discount package also coincides with namesake area events including Traverse City Winter Microbrew & Music Festival, Suds & Snow, North American Vasa Festival of Races plus several wine trail celebrations. For more details on winter happenings and Traverse City Winter Escape visit tcescape.com.