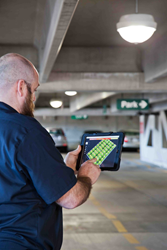 Energy sustainability is important to Kenall and a critical measure of success for our lighting and controls business, so we're excited to see VCU receive recognition for the Jefferson Street Project
KENOSHA, Wis. (PRWEB) December 05, 2017
Virginia Commonwealth University (VCU), in Richmond, Virginia, has committed to be carbon-neutral (net zero) by 2050. Reducing electrical power usage is a major component of this goal, as purchased electricity accounts for half of the university's greenhouse gas (GHG) emissions. Recently, VCU was recognized by Lighting Energy Efficiency in Parking (LEEP) for achieving a 73% energy savings at the Jefferson Street Parking Deck, compared to previous usage, with the installation of TekDek™ LED luminaires and TekLink™ controls, both made by Kenall Manufacturing.
When considering how to best update the deck's existing lighting in 2015, VCU staff and architects at Baskervill, an architecture, interior design and engineering firm in Richmond, Virginia, wanted a high level of uniformity to ensure the safety of garage patrons, but they also needed to reduce energy consumption in the 689-space garage. The facility was built in 2008, and "… at the time, the emphasis was on high intensity, high footcandle lighting, but it wasn't the most energy efficient. Our challenge was to upgrade the whole facility to a modern LED system," said Jay L. Woodburn, Architect and Principal at Baskervill.
After replacing the existing lighting and adding automated controls for dimming and daylight harvesting, VCU was thrilled to achieve a total energy savings of 73%, which resulted in the project winning the 2017 LEEP Award for "Exemplary Higher Education Sector Parking Facility". The award was presented to representatives of VCU at the IFMA's World Workplace Conference & Expo 2017 on October 18 - 20, 2017 in Houston, Texas.
"We are happy that VCU was able to get a step closer to realizing its 2050 net zero objective with the help of our TekDek and TekLink products," said Joe Welch, Kenall's Parking and Controls Product Manager. "Energy sustainability is important to Kenall and a critical measure of success for our lighting and controls business, so we're excited to see VCU receive recognition for the Jefferson Street Project," he concluded.
TekDek was introduced in 2011: it is a line of powerful, energy-saving LED luminaires for parking structures that exceeds stringent performance requirements for output (1 ft-candle minimum) and uniformity (10:1 on 30 ft spacings), and was the first in the industry to include glare control to help ensure driver safety and comfort. TekLink was introduced in 2014 and provides a range of local and cloud-based LED lighting control systems that includes features such as one-touch light-level commissioning, occupancy sensing, daylight harvesting, scheduling and reporting.
The LEEP Campaign is a recognition and guidance program designed to encourage facility owners and managers to take advantage of savings opportunities from high efficient lighting solutions in their parking facilities. This effort is a collaboration of the U.S. Green Building Council (USGBC), Building Owners and Managers Association International (BOMA), IFMA and International Parking Institute in conjunction with the Department of Energy's Better Buildings Alliance. Since 2012, LEEP Campaign participants have upgraded or installed energy efficiency equipment and/or lighting controls in over 560 million square feet of parking facilities, representing 1.7 million parking spots. Participants have saved 227 million kWh annually, amounting to $23.6 million in electricity savings and deferring the energy usage of roughly 21,000 homes.
For additional information on TekDek with TekLink controls or other Kenall products, visit us at http://www.kenall.com, or call us at (800) 4-KENALL.
About Kenall Manufacturing
Kenall Manufacturing was founded in Chicago, Illinois in 1963 and has built a reputation for durable lighting solutions of superior quality and exceptional value. Today, the company focuses on the transportation—including parking, transit and tunnel—high-abuse, correctional, healthcare, sealed enclosure and food processing markets. Kenall luminaires are designed and manufactured in the USA and meet the guidelines established under the Buy American Act and the North American Free Trade Agreement. For additional information, visit http://www.kenall.com.