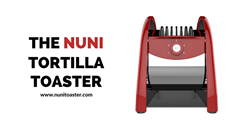 (PRWEB) December 05, 2017
According to the Las Vegas Review Journal, U.S. demand for tortilla products is consistently growing, outpacing other general foods. Outselling traditional American staples such as hamburgers, hotdog buns and other fresh types of rolls, buns, or bagels, tortilla retail sales have risen 2.1% over the last 12 months – reaching an impressive $2.2 billion.
With the Latin American and Hispanic population ever expanding, ethnically diverse meals are quickly becoming more accepted and bought by consumers for their families. Feeling the pressure to meet consumer preferences, tortilla manufacturers are creating products that offer healthier, fresh alternatives, more variety and usage options that go well beyond the traditional, authentic Mexican cuisine.
Leading the way in a revenue-building strategy for the tortilla – and baking – industry, the innovative Nuni brand delivers revolutionary technology for the home chef. A tortilla toaster that heats up to six tortillas at once, Nuni combines groundbreaking new methods with the always changing, and popular tortilla industry.
Noticing a trend occurring at the dining table both in his own home and families across the nation, founder Elliot Benitez created Nuni to keep up the demand for hot tortillas during meals, and to help preserve the social aspect that comes along with sitting down to dinner.
Complete with a six-slot capacity that allows for any option of tortilla ranging from the on-trend gluten-free and wheat alternatives, Nuni also includes an automatic shut-off that deactivates the unit after each toasting cycle.
One of the fastest growing sectors in the U.S. baking industry today, the growing popularity of tortillas is here to stay – with Nuni as an innovative tool that's set its sights on becoming a household name across the nation.
For more information, visit http://www.nunitoaster.com or contact jparise(at)chicexecs.com.