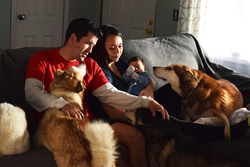 ...Breakaway Siberians ... exemplify the reason Diamond Pet Foods was founded: A belief that every dog deserves the very best...
META, Mo. (PRWEB) December 12, 2017
It's been a big year for Richie Camden and his underdog Breakaway Siberians sled dog team: finishing their longest race ever, adopting two new Siberian huskies and welcoming a future musher with the Camdens' first child. Even with a new baby and a current canine count of 16 (15 sled dogs and their unofficial coach, Bebe, a Pomeranian), Richie and his wife, Leah, provide a loving household.
Life is busy for the Camdens, but the baby won't change things as much as you'd think. "We were used to getting up in the middle of the night to let the dogs out," says Leah Camden. "Having 16 dogs made having a baby a little easier, I think."
The past year has seen tremendous change for Richie and his scrappy sled dog team, including the Breakaway Siberians' partnership with their official 2017 pet food sponsor, Diamond Naturals®, and the team's opportunity to demonstrate the importance of good nutrition to a new and growing group of fans. Along the way, Richie has shared his philosophy of "pets first, athletes second" as he navigates the competitive world of sled dog racing.
Now, the team is back training on the trails near St. Louis as Richie looks to the 2017-2018 racing season. With two new dogs, it's impossible to predict how the team will perform, but one thing is certain – that the Breakaway Siberians will remain crowd favorites at every race.
The Breakaways team is made up primarily of rescued Siberian huskies whose high energy caused behavioral problems. Through spending time with his first Siberian, Koivu, and their chance encounter with a Siberian running loose, Richie realized the breed's innate need to run and pull. The result? A sled dog team that typically doesn't win races but lives a happy, healthy life with Richie and his family.
The Breakaways' story proves that animals who have been given up on by their owners can again live happy, healthy lives with proper training, support, exercise and, of course, good nutrition.
"Richie's philosophy with the Breakaway Siberians exemplifies the reason Diamond Pet Foods was founded more than 40 years ago: A belief that every dog deserves the very best," says John Kampeter, vice president, sales, at Diamond Pet Foods. "We've been honored to help take the Breakaways Siberians story to a broad audience this past year as the team's official pet food sponsor."
Diamond Naturals shares a retrospective of the Breakaways' 2017 and a look ahead in a new video.
Diamond Naturals and the Breakaways are a winning combination. The Diamond Naturals formulas contain quality ingredients including cage-free chicken, pasture-raised lamb and beef, guaranteed probiotics, superfoods and fruits and vegetables. They provide complete nutrition for all pets, from calm lap dogs to high-performance athletes like the Breakaway Siberians.
About Diamond Pet Foods
Founded in 1970, Diamond Pet Foods is a family-owned and privately held company. As a leading manufacturer of pet food, Diamond Pet Foods provides a complete range of proprietary and private label products manufactured in five state-of-the-art and safety-certified facilities across the country. Our mission is to make premium pet food affordable because we believe every pet deserves the very best. For more information, visit http://www.diamondpetcompany.com. 
 
©2017 Diamond Pet Foods. Diamond, the Diamond design and Diamond Naturals are registered trademarks of Schell & Kampeter, Inc. All rights reserved.