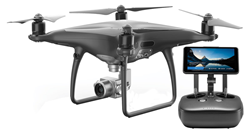 (PRWEB) December 05, 2017
The DJI Phantom 4 series of drones is a hugely popular line of aircraft from the drone giant, and the DJI Phantom 4 Pro Obsidian stands at the pinnacle of it. This week Drone-World.com begins selling their first DJI Phantom 4 Pro Obsidian Kits, including a Phantom 4 Pro Obsidian Falcon Kit, and both the P4Pro Obsidian Executive Kit Version 2.0 and original P4Pro Obsidian Executive Kit. In addition, drone lovers can buy the P4Pro Obsidian drone on its own, and customize with Drone World accessories, which are currently 25% off. From Phantom 4 Obsidian black carbon fiber propellers to Obsidian battery banks to the ever-useful sunshade hood, these premium kits accentuate the best characteristics of the Phantom 4 Pro Obsidian color vis-a-vis all of the phenomenal accessories.
See the new Obsidian Drone here: DJI Phantom 4 Pro Obsidian
The most elite of the new kits is the P4Pro Obsidian Falcon Kit, which offers the best in range and reliability with the help of FireBridge™ 2 technology. "In essence, we've taken the best of both worlds and meshed them together: the sleek look of the P4Pro Obsidian and the Falcon edition upgrade kit all in one awesome package," described Stephen McKenna, President and Founder of Drone World. He continued, saying "The end result is an upgraded drone that takes advantage of the strongest remote technology to fly stronger, and is filled with invaluable accessories like the L-series lens filters, the wheeled hard case, and the THOR supercharging station."
2017 has been a year marked by new colors for DJI drones, with the DJI Mavic Pro Platinum debuting right on the heels of the P4Pro Obsidian. Both of these aircraft follow in the footsteps of the Inspire 2 and original Mavic Pro -- the pair of which illustrated a departure from the classic white coloration and a movement towards darker color combinations. Also new in a black color is the DJI Goggles RE (racing edition). All of these new items can be found at drone-world.com.
From first-time buyers to long-time Drone World customers, everyone can benefit from learning more about the difference and similarities between the Phantom 4 Pro and P4Pro Obsidian. We break down all of them in this comparison article.
CHRISTMAS SALE: don't forget to see Drone World's Holiday sales here:
About Drone World:
Drone-World.com is the Web's preferred destination for consumer and professional unmanned aerial drones, drone kits, and drone accessories. Drone-World.com combines superior customer service and know-how with over 5 years of drone experience and 10 years of web sales and service. They specialize in custom DJI Phantom & Mavic bundle kits, including the highly popular DJI Phantom 4 Pro/+ Executive & Falcon Edition kits featured in RotorDrone Magazine as well as commercial use Inspire 2 kits, Osmo kits and the newly released DJI Phantom 4 Pro kit and the DJI Phantom 4 Pro+ (Plus) bundle.
For more information contact:
(888) 901-3108
sales(at)drone-world.com