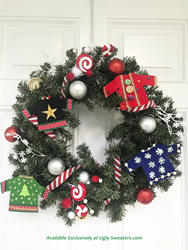 TALLAHASSEE, Fla. (PRWEB) December 05, 2017
For the past several years ugly Christmas sweaters have continued to take the holidays by storm each year. Love them or hate them the ugly Christmas sweater and ugly Christmas sweater party trend is here to stay. With the 2017 ugly Christmas sweater season upon us a whole new slew of ugly sweaters and other types of ugly Christmas clothing and party supplies have grown in popularity.
This year, along with a growing collection of hundreds of ugly Christmas sweaters for men, women, kids and even dogs, Ugly-Sweaters.com has released their line of ugly Christmas wreaths that are hand decorated and are definitely NOT your Grandmothers Christmas wreaths. A spokesperson for Ugly-Sweaters.com stated, "with every year we see more customers searching for something different than just an ugly Christmas sweater. People try to out do their friends and throw the wildest ugly sweater parties and with that comes the need to find unique and different decorations that are the ugliest and funniest that they can find. We looked at a lot of different ugly Christmas product ideas and decided on creating our own funny Christmas wreaths. We try to make them not too ugly, and subtly naughty, so from a distance the wreaths look like a traditional Christmas wreath but up close they are sure to get a second look and a laugh."
Also new this year from Ugly-Sweaters.com, is a free Ugly Christmas Sweater Party App. "We created our Ugly Christmas Sweater Party App so that party hosts and their guests can add in some extra fun at their ugly Christmas sweater parties with a simple free app," said a spokesperson for the company. The free Christmas Party App includes an ugly Christmas sweater party photo booth, ugly meme maker, ugly Christmas sweater party games, online sweater shopping, and several other fun features. The Ugly Christmas Sweater Party App is available in the Apple App Store for iPhone and iPad devices.
To learn more please visit https://www.Ugly-Sweaters.com