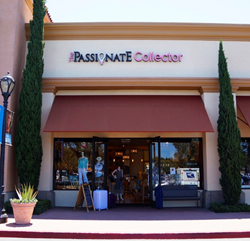 "The Passionate Collector® works with clients to make them feel confident and powerful when they walk into a room and our mission is to make one feel confident in whatever they are wearing," said owner Susan Shieldkret
NEWPORT BEACH, Calif. (PRWEB) December 05, 2017
The Passionate Collector®, located at the Newport Coast Shopping Center at 21115 Newport Coast Drive, Newport Coast, California 92657, and online at http://www.ThePassionateCollector.com, has the perfect holiday gifts for those hard to buy people in your life.
From the person who has everything, to someone who enjoys one-of-a-kind pieces, or maybe a gift for yourself to make the holiday special, The Passionate Collector® has many unique gifts by designers from all over the globe and most items have a story of passion behind them.
Thinking of a unique gift that keeps on giving? What about fur slippers from Peru? These are made from the fur of alpacas located deep in a village in Southern Peru where the sale of these luxury slippers helps the economy in the local village. Another one-of-a-kind gift is the beautiful jewelry designed and made by a California woman who gracefully overcame breast cancer. Each piece is created from her struggles and now triumph is another story behind The Passionate Collector®.
The Passionate Collector® is the creation and passion of owner Susan Shieldkret. She personally selects each item from designers all over the world who use unique stones, organic materials, and handmade, recycled materials that provide the wow effect. These can be exclusive gifts, high-fashion accessories or items for the work place - there is simply something for everyone. They have designer items with various prices ranges fitting every price point with everyone in mind.
"The Passionate Collector® works with clients to make them feel confident and powerful when they walk into a room and our mission is to make one feel confident in whatever they are wearing," said owner Susan Shieldkret.
This year, some of the unique special items include:
Luggage with a Twist
This backpack was born in Canada by two brothers who are veterans of the fashion industry. They pursued their passion for creating the perfect backpack and designed their Venque® line for urban trendsetters and commuters. These luxury travel pieces have the quality, detail and durability because of their innovative Quanta Fabric; it was exclusively invented and designed for these products. The idea behind this was to create a fabric material that would last through the toughest of conditions. Not only are these durable but they are also water and dust repellent, anti-scratch, high-density, and stain resistant. Each piece is handmade by artisans who have spent their professional lives learning the art of making beautiful and functional leather products. Don't forget about the nooks and crannies inside, there is a place for everything.
Umbrellas with a Statement
When it rains, yes, an umbrella is necessary; however, an umbrella for a gift says something different. The Passionate Collector® has been carrying the Pasotti line for at least seven years; they are for both men and women. The company was started in 1957 in Italy by a woman, and now her grandchildren run the company. Still using an artisanal technique in combination with the finest Italian fabric, woods and brass, these hand-made unique umbrellas are superbly decorated. They will keep the rain away and make a fashion statement at the same time.
Wearable Art
Bright, fun and imaginative was what Shieldkret thought when she saw this designer's wearable art. These scarves and leggings from Rogawear are the two items that are available at The Passionate Collector®. They resonate with women as the leggings are for yoga class and everyday living as well. The scarves feel great on the skin too. The artist is passionate about painting images of women who are inspiring or need inspiration. By using quotes with graffiti word art, the messages she shares encompass the messages of strong women. These wrap around women every day inspiring them to be stronger and believe.
Online orders and additional information can be found at http://www.ThePassionateCollector.com. Stay connected on social media on Facebook and Instagram at @thepassionatecollector; and Twitter @TPC_Jewelry.
Located at the Newport Coast Shopping Center at 21115 Newport Coast Drive, Newport Coast, California 92657. Phone 949-673-0440
Store hours are: Monday – Friday 10:00 AM – 7:00 PM
Saturday 10:00 AM – 6:00 PM
Sunday 10:00 AM – 4:00 PM
For media inquiries and interviews contact: Kelly Bennett, Bennett Unlimited PR, Kelly(at)BPUnlimited(dot)com (949) 463-6383 http://www.BennettUnlimitedPR.com