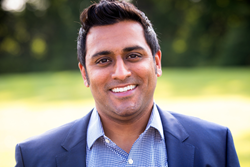 We offer traditional braces to both children and adults, and we also have the option of Invisalign, which is basically clear retainers
DELAWARE, Ohio (PRWEB) December 07, 2017
Drs. Rajan Sheth and Diana Park of Delaware Smile Center are now welcoming new patients seeking orthodontics with or without a referral. The team offers traditional braces for patients of all ages as well as Invisalign® in Delaware, OH, for teens and adults seeking a discreet treatment method.
"We offer traditional braces to both children and adults, and we also have the option of Invisalign, which is basically clear retainers," says Dr. Park. "If you think about the rest of your life, like 20 years of life ahead of you, or 40 years, or 60, a year or two is not a big thing at all. It will definitely change your lifestyle and how you feel about your smile."
The team at Delaware Smile Center is accepting all patients, with or without a referral, to receive orthodontic care and enjoy the many benefits of straight, healthy teeth. Proper tooth alignment is much more beneficial than just an increase to the aesthetic look of the smile, it also improves oral health and the ability to properly clean teeth and gums. Orthodontics can correct a variety of bite misalignments, including:

Crooked teeth
Gaps between teeth
Overbite or underbite
Crowded teeth
Crossbite or open bite
For those who may be embarrassed about traditional metal orthodontics, Invisalign in Delaware, OH, is a more discreet option. These plastic aligners are nearly invisible when being worn and can correct many of the same concerns as traditional braces. However, those with more severe tooth misalignment may still require traditional orthodontics.
Patients should seek experienced professionals when considering orthodontic care to ensure their results are effective and treatment is completed in a timely manner. Drs. Sheth and Park have received advanced training in modern orthodontics from the American Orthodontic Society and are certified Invisalign providers. Patients interested in orthodontics can schedule a complimentary consultation by calling Delaware Smile Center at 740-417-9565.
About the Practice
Delaware Smile Center offers modern dental care to patients in Delaware, OH. Dr. Rajan Sheth and Dr. Diana Park both graduated from Ohio State University. Dr. Sheth received additional training in pediatric special needs and the adult population with complex medical histories and is certified to offer IV sedation to help patients feel comfortable during their treatment. He and Dr. Park are dedicated to the latest techniques and technology and dedicate more than the minimum number of hours to continuing education courses. Delaware Smile Center offers a range of services from dental implants, sleep apnea treatment and orthodontics to complete smile makeovers. With a philosophy of treating their patients as their own family, this team is committed to leading, comfortable care. To learn more about Drs. Sheth and Park or the services they offer visit http://www.smilecenterohio.com or call 740-417-9565 to schedule a comprehensive consultation.