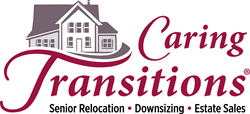 We are stress-relievers and our focus is making you as comfortable as possible while you go through what can sometimes be an emotionally-draining and physically-challenging time. - Ruth Cunningham
CLARK COUNTY, Wash. (PRWEB) December 05, 2017
Ruth and Albert Cunningham are pleased to announce the full launch of their new business – Caring Transitions of Clark County. The company had a soft opening in June.
Caring Transitions is a full-service company that provides customized plans for space planning, packing, moving, resettling, estate sales, liquidation services and more. The Cunninghams and their specially-trained team are uniquely qualified to manage senior relocations, but the services are also perfect for busy families and individuals in need of assistance. Caring Transitions is a national franchise with more than 200 locations throughout the United States and Caring Transitions of Clark County serves Clark County in Washington as well as the Portland area in Oregon.
"We have friends who buy and sell on Etsy and they had purchased things from a Caring Transitions online auction. That's how we first heard about Caring Transitions and, as we learned more about the company and what Caring Transitions is all about, we realized this was something we wanted to do," Ruth said. "Albert and I were both late-in-life babies, so our folks were older and our siblings are older. We realize that the kinds of transitions Caring Transitions helps people through are transitions we're all going to face at some point and no one wants to do it alone. We're excited to be the resource that can help people through that."
Ruth spent the last 30 years in information technology with a focus on security. Whether she was working with internal or external clients, much of her job was about providing top notch customer service and problem solving. After she retired from Microsoft, Ruth and Albert, who always worked in general labor, were ready to do something different together.
Caring Transitions' services are perfect for seniors moving in with family or into a safer living situation as well as busy families and people clearing out the home of a loved one who has passed. All of Caring Transitions' services are customizable, so clients only pay for the services they need – whether that means managing the entire move and estate-clearing or just getting someone resettled into their new place.
"You can hire movers to help you move, but when you hire Caring Transitions, we can space plan, pack, work with movers, unpack, get your new place situated and then help you liquidate any possessions you don't need or want anymore. We are stress-relievers and our focus is making you as comfortable as possible while you go through what can sometimes be an emotionally-draining and physically-challenging time," Ruth said.
The Cunninghams are also hosting a Holiday Networking Fundraiser for professionals who work with seniors from 5pm to 9pm Friday, December 8, at the Vancouver Art Space, 8700 NE Vancouver Mall Drive, Suite 206. This event, which is part of Caring Transitions' Caring for a Cause initiative, will support Caring Closet, a Clark County non-profit that provides gently-used durable medical equipment to those in need at no cost. Please RSVP to Caring Transitions Sales and Marketing Manager Christina Keys at CKeys(at)CaringTransitions(dot)com. If you can't attend, but would like to make a donation, visit http://www.ACaringCloset.org. Event attendees must be 18 or older.
Ruth and Albert live in Washougal, Washington with their Corgi, Chiweenie and Chantilly cat. Caring Transitions of Clark County is bonded, insured and their W2 employees have been background checked. For additional information, call (360)335-4710, email RCunningham(at)CaringTransitions(dot)com or visit http://www.CaringTransitionsClarkCounty.com.
About Caring Transitions
Caring Transitions, founded in 2006, is the first national franchising concept specializing in senior relocation and transition services. With more than 200 locations throughout the United States all owned and operated by Certified Relocation and Transition Specialists, Caring Transitions provides clients with supportive moves, auctions, rightsizing and transitions. This includes expert advice plus a well-executed transition plan beginning with the initial sorting of personal belongings through packing, shipping and selling of items to the final clearing and cleaning of the property. For more information, visit http://www.caringtransitions.com or visit us on Facebook.