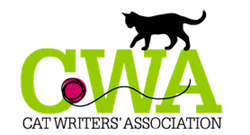 We are thrilled to announce the opening of this contest to our members and the general cat-loving public.
NEW YORK (PRWEB) December 05, 2017
Calling all cat loving writers, bloggers, artists, photographers, and videographers. The Cat Writers' Association (CWA) announces the opening of its prestigious annual contest. Entries must be published between January 1, 2017 and December 31, 2017 and postmarked or emailed no later than January 9, 2018 to be eligible to compete in this contest. The winners will be announced at the CWA awards banquet on June 9, 2018 during the #CatWriters' Annual Conference. Register to Collaborate, Educate and Celebrate cat writing at the 2018 CWA Annual Conference being held June 7-9, 2018 in Houston, Texas.
"We are thrilled to announce the opening of this contest to our members and the general cat-loving public. We hope to receive as many entries as possible as a tribute to all who love cats of all kinds. We are especially pleased that we will be announcing the winners at our special awards banquet in Houston," said Marci Kladnik, CWA president.
All are encouraged to submit their cat-centric work, which will then be evaluated by a panel of professionals, including writers, artists, video producers, veterinarians and other highly credentialed judges. The top submission for each category will receive the coveted Muse MedallionTM award. In addition to the highly sought-after Muse Medallions, all of the special awards include cash prizes through the generosity of corporate and private sponsors.
The 2017 contest includes 55 regular categories and over $10,000 in cash prizes. This year's contest marks the return to a regular calendar year schedule for entries, as well as announcing the new "Cats Rule Newcomer Blogger's Home-Enrichment" special award for 2017 which will be presented to the online blogger (written or visual/video with accompanying text) who inspires cat caretakers to create an enriched and stylish environment for their pets. Additionally, the CWA Shojai Mentor Award is now sponsored by CWA in honor of Past President and Co-Founder Amy D. Shojai.
"Every year, the CWA contest gets better and better, with more and more entries, in an ever-broadening range of media, informing the public about cats, offering new insights into our lives with these remarkable creatures, and celebrating all things Feline. We're seeing a dramatic uptick in the number of online and social media entries, reminding us that cats do, indeed own the Internet! We're all looking forward to seeing what will catch our judges' fancies this year," said Wendy Christensen, award-winning writer, artist, illustrator and CWA Secretary and 2017 Contest Chair.
Background on the Muse Medallion & Special Awards
In November 1994, the newly formed Cat Writers' Association, held its first writing competition. Founding member, the late Karen Kuykendall, designed the coveted Muse Medallion. Karen was also the first recipient of a Muse Medallion. The Muse is awarded to the best work of like kind, such as newspaper articles about health and general care, magazine articles about behavior, or newsletter columns. The special awards go to the entry that best covers a specific topic.
The Contest
Below are the links to the 2017 CWA Communication Contest entry forms for regular and special award entries, as well as the complete contest rules. The complete rules are also found at the CWA Contest page.
Highlights of the rules include:

Eligible entries must be first published or broadcasted between January 1, 2017 and December 31, 2017.
All entries must be postmarked or emailed no later than January 9, 2018 to be eligible.
This contest is open to both members and nonmembers, as long as their work qualifies under the contest rules.
The categories of Online Magazine or Newsletter, and Website will be judged live (per the posted rules) from the entrant's website between February 1 and February 29, 2018. For these categories only, submit an entry form with the URL included.
Rules & Categories
2017 CWA Communication Contest Rules
2017 Regular Category List
2017 Special Awards List
Entry Forms
2017 Regular Categories Entry Form
2017 Special Awards Entry Form
About The Cat Writers' Association
The Cat Writers' Association, Inc. (CWA) is an international association of professional communicators who provide news, information, education and works of literary and graphic art that describe, dramatize, explain and illuminate the myriad aspects of felines, especially domestic cats, and their place in human life and culture. CWA members promote the best interests of all cats through a variety of media and formats, striving always to observe and promote the highest standard of ethics in the generation and publication of cat information in all genres and all media. The Association promotes mentorship for new writers, provides writing/publishing educational opportunities, and seeks to improve the quality of cat information by recognizing and rewarding outstanding published work in its annual contest. See catwriters.com for further information. Follow CWA on Twitter at @CatWriters and on Facebook at Facebook.com/CatWriters.