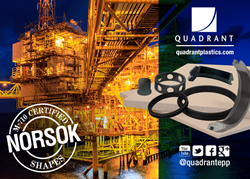 HOUSTON (PRWEB) December 05, 2017
Quadrant Engineering Plastic Products (Quadrant EPP), leading global supplier of high-performance thermoplastic materials, visits the 46th Turbomachinery & 33rd International Pump Users Symposia (TPS 2017) this December to showcase the latest innovations in advanced engineering grade plastics, polymers, and composites for global Petrochemical challenges. TPS 2017 is the premier conference for Turbomachinery and Pump professionals and will draw over 5,000 attendees.
In industries that call for extreme temperatures, loads, and chemicals (including Oil & Gas; Chemical/Petrochemical; Power; Manufacturing; Mining/Metals; Water; Industrial Gas; and Refining), thermoplastic solutions can improve efficiency and reduce mean time between repair.
Quadrant is the global leader in providing polymer materials to the compressor and pump market, supplying stock shapes as well as finished part solutions. Our solutions for upstream, midstream, and downstream processes provide efficiency through tighter tolerances and lower wear materials; reduce weight and power requirements through the switch from metal to plastic; and reduce VOC emissions through superior seal elements leading to fewer leaks.
Combined with reduced friction and superior coefficient of linear thermal expansion (CLTE), Quadrant thermoplastic materials can increase equipment lifetime as well as cut down on lost production time due to repairs. Our materials comply with many industry specifications—including NORSOK, ISO, ANSI, ACME, API, and NACE—delivering reliability, safety, and efficiency.
Selected products and applications of interest to TPS 2017 attendees include:

Duratron® PAI - Testing has shown that Quadrant's Duratron® seals virtually eliminate the tooth deformation and mating shaft damage that is common with metal and alloy seals.
Fluorosint® PTFE
Ketron® PEEK
Techtron® PPS
TIVAR® UHMW-PE
Nylatron® NSM
Kyron® MAX
Inspired by the challenges faced by design engineers, Quadrant continues to meet and exceed end-user demands for performance and efficiency gains with engineered polymers. Our global technical service teams support customers around the world, providing full material seminars, individual application assistance, or part validation assistance. Quadrant's global stocking warehouses and distribution networks ensure that our clients have access to solutions and innovative materials for all of their Petrochemical challenges.
Learn more about Quadrant EPP's innovative family of materials at TPS 2017 (booth #2041) at the George R. Brown Convention Center in Houston, Texas from December 12-14, 2017. Application specialists and technical experts will be available on-site to answer questions and provide guidance.
About Quadrant Engineering Plastic Products:
For over 70 years, Quadrant Engineering Plastic Products (Quadrant EPP) has been proving there is simply no substitute for quality and innovation. Quadrant EPP is the global leader in research, development, and manufacture of machinable, high-performance engineering polymer materials. Quadrant EPP materials are specified for use in food processing and packaging, semiconductor manufacturing, aerospace, electronics, chemical processing, life sciences, power generation, and diverse industrial equipment. Quadrant EPP products range from UHMW polyethylene, nylon, and acetal to ultra-high performance polymers that resist temperatures to over 800°F (425°C).
Quadrant EPP technology is backed by a global team of application development and technical service engineers, specializing in evaluating designs and fabrication techniques. Quadrant EPP materials expertise is available through a worldwide network of branch offices, technical support centers, and authorized dealers. Learn more about Quadrant EPP at http://www.quadrantplastics.com or connect with Quadrant EPP on Facebook, YouTube, and Twitter ("quadrantepp").
Registered trademarks of the Quadrant group of companies: Acetron®, CleanStat®, Duraspin®, Duratron®, Erta®, Ertalyte®, Ertalene®, Ertalon®, Extreme Materials®, Fluorosint®, Ketron®, MC®, Monocast®, Nylatron®, Nylasteel®, Polypenco®, Proteus®, Sanalite®, Semitron®, Techtron®, TIVAR® and Vibratuf®.